E&T Plastics Donates Acrylic Sheet to the "Reflecting the Stars" Art Installation in New York City
E&T Plastics, one of the leading plastics distributors and component manufacturers in the United States, donated key acrylic components to the "Reflecting the Stars" art installation in New York City.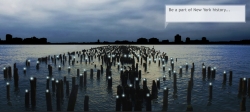 Long Island City, NY, August 27, 2011 --(
PR.com
)-- E&T Plastics recently donated acrylic sheet in support of the latest endeavor of The Windmill Factory, an organization that creates public art displays with the aim of generating awareness of social and environmental issues. The project, titled "Reflecting the Stars," is designed to educate its audience about light pollution and the techniques that can be used to prevent it.
The exhibit consists of solar-powered LED light clusters implanted in hundreds of decaying pier posts at downtown Manhattan's Pier 49. Through the use of an interactive control panel, visitors will be able to illuminate the lights in patterns that reflect constellations that are no longer visible in New York City's polluted skies. In the process, they will learn about the harmful environmental and economic impacts of light pollution.
The Windmill Factory, which often works with corporations as a means of supporting its projects, reported that E&T Plastics was unusually forthcoming in providing assistance. When Creative Director Jon Morris contacted E&T to solicit a donation of acrylic sheet, he was pleasantly surprised by the company's lack of hesitancy. After leaving just one voice mail with his request, he promptly received a return message that his plastic was ready for pick up.
E&T Plastics' willingness to help reflects its longstanding commitment to the arts; a trend that is further reflected by their work with artist Martin Basher and the New York City's Public Art Fund earlier this year. For more information on E&T Plastics and the products they offer, visit their website at
http://www.e-tplastics.com/
or call 1-800-221-9555.
To find out more about The Windmill Factory and their "Reflecting the Stars" installation, please visit
http://www.thewindmillfactory.com
. The exhibit will open on August 30th, 2011 at Pier 49 at the Hudson River Park near Manhattan's West Village.
About E&T Plastics
E&T Plastics, one of the nation's leading distributors of plastic sheet, rod, tube, and film, provides manufacturing services for plastic components from concept to production. With eight locations and a multi-million dollar inventory, E&T Plastics is a reliable source for a wide variety of plastic materials and offers custom cutting services, CNC routing, laser cutting, vacuum forming, and traditional plastics fabrication.
About The Windmill Factory
The Windmill Factory is a collective of artists, designers, architects, performers, and producers with over 30 years experience. Creative Director Jon Morris leads this unique art factory that presents work within public space, raising thought-provoking questions about community, landscape, and existence. The Windmill Factory partners with responsible corporations, non-profits, and arts organizations to creatively address social and environmental causes.
###
Contact
E&T Plastics
Pam Aungst Teubner
800-221-9555
www.e-tplastics.com

Contact