"Bite Collapse" Ages Baby Boomers, Reports Dr. Sam Muslin, DDS
Botox and wrinkle fillers can't offset worn teeth and poor bite mechanics, says a prominent California dentist. His advice on how to turn back time? Fix the underlying dental structures first!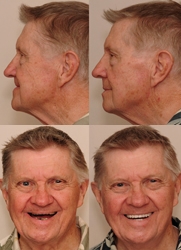 Beverly Hills, CA, September 01, 2011 --(
PR.com
)-- Although the oldest baby boomers are marking their 65th birthdays this year, it's clear that this audacious generation will neither step out of the limelight nor submit to the aging process quietly. About 80 million Americans fall into this age range, impacting the economy, politics and underpinning the need for
anti-aging dentistry
.
"Baby boomers follow their own path. They have their own ideas about what it means to be 50 or 65," asserts Dr. Sam Muslin, a noted cosmetic and
mouth reconstruction dentist
in Santa Monica, Calif., who has recently added extended VIP appointments to his services to accommodate busy boomer executives. "This passion for life explains the increased interest in nutrition, fitness, anti-aging dentistry and other health oriented procedures. Boomers want their outward appearance and health to match what they feel inside. I believe addressing bite collapse is part of that equation."
Because of dental wear and tear, facial height is lost during aging – a process known as "bite collapse." This change in tooth structure and mechanics can result in jaw joint pain, ineffective chewing, a shortened profile, lower face wrinkles, thin lips, speech problems and a grumpy expression, says Dr. Sam Muslin, who developed the Face Lift Dentistry® technique to reverse bite collapse and improve oral health along with a significant anti-aging benefit.
"I am getting more boomers and professionals in my office. They're getting older and want to look attractive and keep their competitive edge. Fortunately, in many cases I can help them in a way that Botox and wrinkle fillers can't. I fix the underlying dental bite problems that contribute to the aging face."
Applying tooth whiteners or veneers on the top of teeth may improve the appearance of a smile, but it doesn't address the mechanical issues caused by worn teeth, advises Dr. Sam Muslin. There are no anti-aging benefits to porcelain veneers.
"The teeth may look whiter, but if a patient with bite collapse isn't smiling, he or she still looks grumpy and aged. Even if you have Botox or plump up your lips, the overbite or under bite is still there. The TMJ headaches are still lurking, and you still have the telltale collapsed profile of an older person. If you want to look younger, you need to address the bite profile – not just bleach your teeth, add porcelain veneers and paralyze your forehead with Botox!" he says.
Dr. Sam Muslin's,
Face Lift Dentistry
(
http://www.faceliftdentistry.com/
) builds tooth surface back to a youthful height, restoring jaw mechanics and the fullness and length evident in youthful faces. Mismatched and aging crowns, bridges and veneers are removed. Tooth decay and gum inflammation are addressed, and old fillings are replaced with matching bio-compatible materials to create the ultimate bite and facial support.
"The loss of facial height because of bite collapse is only now just beginning to be considered in a tiny number of dental practices," says Dr. Sam Muslin, who has more than 30 years of bite reconstructive dentistry experience. "Many cosmetic dentists still grind down the natural teeth in order to place veneers on top of what's left. It's a shortcut that I don't approve of – especially now that there is a non-invasive porcelain veneer treatment method. Dr. Sam Muslin's, Face Lift Dentistry® was designed to preserve the tooth structure, improve jaw movement and deliver natural-looking improvements without being invasive. Instead of piecemeal dentistry, the patient gets cohesive care that addresses the underlying problems that makes the face look older."
Dr. Muslin's office offers extended VIP appointments six days a week to meet the needs of busy boomers, who want to deal with dental issues quickly and privately – preferably in as short a time period as possible for their particular needs.
"It's important for the dental profession to keep up with the changing culture," says Dr. Sam Muslin. "Advances in medical care have elevated longevity, and consumers expect – and deserve – a high quality of life. They want to stay healthy, and they want to keep their teeth. Most baby boomers at 60 feel younger than their chronological age. They don't feel old, and they certainly don't want to look like their parents did at that age!"
According to a recent report from the International Health, Racquet and Sportsclub Association, health club membership for those 55 and older is up by 380 percent since 1987. The Bureau of Labor Statistics is projecting a whopping 20 percent increase for hair colorists and other personal appearance workers between 2008 and 2018. Why? Graying boomers! In 2010, more than 12 million Americans had elective cosmetic procedures, reported the American Society of Plastic Surgeons. Eyelid surgery, face lifts, liposuction and tummy tucks were among the top surgical procedures. Botox injections, micro-dermabrasion and injectable wrinkle fillers chalked up plenty of interest, too.
"Boomers want to be taken seriously and not to be dismissed because of age. It's a huge improvement in health, much of the care can be non-invasive, and it provides permanent facial support, smooths out wrinkles, improves the facial profile without surgery and is a lifestyle enhancement beyond most other treatments," says Dr. Sam Muslin.
To view the untouched and unaltered,
cosmetic dentistry before and after
full face photos of Dr. Sam Muslin's patients, go to
http://www.cosmeticdentistbeverlyhills.com
. To schedule an appointment, call (310) 829-6796
###
Contact
Sam Muslin DDS
(310) 829-6796
www.faceliftdentistry.com

Contact