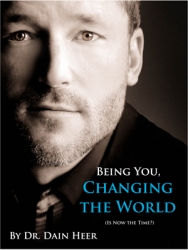 San Francisco, CA, August 31, 2011 --(
PR.com
)--
Access Physical Therapy
presents,
The Being You, Changing The World Taster
, with Author,
Dr. Dain Heer
. September, 15th, 7pm. San Francisco, Holiday Inn Fisherman's Wharf.
Chicken Soup for the Soul meets the Power of Now, on steroids. This is how the author himself describes his new book,
Being You, Changing the World
. "It is a Handbook for Generating Infinite Possibilities and Dynamic Change. For you and the world. This is a very different book. It is written for the dreamers of this world. The people who know that something different is possible but who have never had the tools before," says Dr. Heer.
Dr. Heer asks. "What does it take to truly be you? Would you be willing to try something completely different? What if the tools exist? What if the possibilities you've always dreamed of are possible!"
This evening class, based on Dr. Heer's book by the same name, will provide participants with a set of practical tools and processes which, if used, gives participants access to changing anything they are asking to change.
Dr. Dain Heer's unique approach offers a totally different perspective on being. He asks, "What if being you isn't about doing something differently or being better? What if it is about being the energy you be, in totality? And what if that can change everything? Your life, your relationships, your money situation... And the world!"
"There has not been anything that produces this kind of change... the capacity to have a bigger and better life than I ever imagined… it is about having more of you." ~ Testimonial from class participant, Marilyn Bradford, LCSW, Texas.
Dr. Dain Heer travels all over the world facilitating advanced classes on the modality called
Access Consciousness
. He invites and inspires people to more consciousness from total allowance, caring, humor and a phenomenal knowing. His unique points of view on of embodiment, the earth, sexualness and healing transcend everything currently being taught. Being You, Changing the World is his eighth book. It was published in June 2011.
Ten years ago, Dr. Heer started as a Network Chiropractor in California. Having worked with bodies since he was in college. He came across Access Consciousness at a pivotal point in his life. When none of the other modalities and techniques he had been studying were giving him lasting results or change. Dr Heer describes that with Access Consciousness his life began to expand and grow with more ease and speed than even he could have imagined possible.
Following the evening class Dr. Heer will be teaching his 3 day
Energetic Synthesis of Being
workshop, Sept. 16th-18th. Pre-requisites for this class are Access the Bars, Foundation and Level One.
You can listen to Dr. Heer with Access Founder Gary Douglas on their weekly radio show, Conversations in Consciousness on the World Punja Network at www.worldpunja.org.
For more information or to register go to www.dainheer.com, www.accessconsciousness.com or www.glennarice.com
###