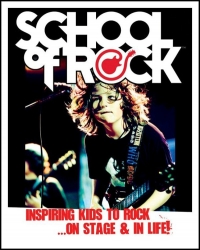 Southwest Ranches, FL, September 03, 2011 --(
PR.com
)-- School of Rock, the national brand leader in music education for kids, is thrilled to announce the opening of a new franchise school at 6880 Dykes Road, Southwest Ranches, Florida, this fall. This will be the second location to open for Co-Owners Craig Zim and Richard Salit. Their first location is in Coral Springs, and opened in January, 2008.
Craig Zim, is an attorney by profession, but has music in his blood. His father is the nationally touring performer, Sol Zim and Craig has performed with him since childhood. The strong musical gene has carried on to his three, musically talented sons (all of whom participate in School of Rock). Zim resides in Weston, Florida and is very proud to bring this venture to his nearby community, as well as the surrounding areas. "School of Rock is not just your run of the mill after school music program. The methodology of School of Rock is not only to teach music & music theory, but also to build confidence and self esteem within an interactive, performance based curriculum," says Zim.
Richard Salit, a software development manager before getting involved in the School of Rock, is Co-Owner and serves as General Manager of both the Coral Springs and upcoming West Broward locations. Salit, resides in Coral Springs with his wife and four children, all students at the School of Rock. A musician in his own right, Salit has been in several local bands. He is always eager to pick up his guitar and "jam" with the students.
Looking towards the new school, Salit chimed in, "It's exciting to be able to bring the School of Rock concept to the communities in West Broward. It's great to see the accomplishments of our students, at the school, at their performances and most importantly, how we positively affect their lives."
Zim and Salit, along with their long time Senior Music Director, Burny Pelsmajer, are looking forward to bringing their School of Rock team and expertise to West Broward. Other music programs try to imitate, but there is nothing that can compare to School of Rock. A Grand Opening Celebration and Open House is currently being planned for October 15, 2011, at the new Southwest Ranches location.
School of Rock's proprietary performance-based curriculum teaches students to play rock music in a unique and interactive way. There are weekly individual lessons on guitar, bass, drums, keyboard & vocals and weekly group sessions with seasonal performances.
About School of Rock:
For more than a decade, School of Rock has been teaching kids to rock on stage and in life. We believe the best way to learn music is to perform music in a rock band. We take students from the lesson room to the stage, developing both their confidence and musician ship with programs designed for all skill levels. Today School of Rock operates 69 schools in 25 states and Mexico. We are expanding to meet the tremendous demands of parents who want enriching afterschool programs for their kids who want to play music. With opportunities available nationwide, it's an exciting time to become a School of Rock franchise owner. For more information about School of Rock, please visit www.SchoolofRock.com.
For more information:
Richard Salit, Co-Owner and General Manager
954-757-7625
rsalit@schoolofrock.com
http://coralsprings.schoolofrock.com/
###