REOSE Showcasing Sustainable Prototype Containerized Housing Development
New Orleans' Sustainable Home Model to Promote Green Materials, Appliances, Equipment, and Furnishings That Can be Packaged and Shipped Internationally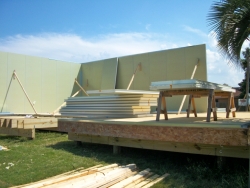 New Orleans, LA, September 03, 2011 --(
PR.com
)-- The construction of the SSIP (Sunshower Steel Structural Insulated Panel) model home designed by architects Judith Kinnard and Tiffany Lin, winners of the 2010 REOSE Sustainable Design Competition, is underway in New Orleans.
"This design stood out as a model that was both attractive in appearance, but also smart and functional in terms of energy efficiency and ability to weather the toughest storms and conditions," said Joseph Basilice, President of Oceansafe. OceanSafe, the premier manufacturer of durable and energy-efficient Steel Structural Insulated Panels; The ReGen Group, sustainable design consultants; C&G Construction, a leading green residential and commercial contractor; and Woodward Design+Build, the largest Design + Build contractor in Louisiana and the Gulf Coast Region have entered into a strategic partnership to produce this winning model, REOSE's first sustainable prototype in New Orleans. The four associated companies are poised to manufacture, package, sell and market fully functional sustainable building kits in the US and abroad.
The REOSE Sunshower SSIP Model is located at 222 Harrison Avenue in the Lakeview Neighborhood of New Orleans, LA. The rapid construction of this model will take place over the next several weeks and will be the premier example of green and sustainable construction. Builders, local and international dignitaries, green building organizations, and media outlets will be provided opportunities to tour the project and be present for building milestones. The public will experience the latest in green technology, materials, and building design. With the help of preferred vendors, everyone will see what a truly sustainable home looks like and experience what it would be like to live in one. Onsite property tours are also available by appointment.
Each REOSE home building kit includes all the materials required to achieve a safe, healthy, comfortable, and enduring level of building performance, while meeting all of its energy and water needs even in extreme environments. Sponsoring companies have agreed to donate the materials and equipment for the interior and exterior of the dwelling, and to also collaborate as to renewable energy components, HVAC, lighting, decking and interior framing, windows, doors, furniture, cabinets, appliances, flooring, and home décor for the project.
###
For more information about this historic "Green" home building project, its history, new videos and photos and information about participating vendors visit:
Blog: www.oceansafe-reose.com
Facebook: http://on.fb.me/fbocean
Flickr: http://bit.ly/reoseha
www.reose.com
www.cngconstruction.la
www.oceansafesteelsip.com
www.woodwarddb.com
Contact
Oceansafe
Bill Corbett
516-775-0435
www.oceansafesteelsip.com
516 428 9327
516 775 0435 ext 1

Contact