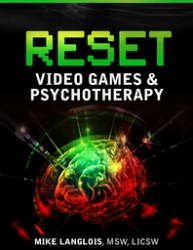 Cambridge, MA, September 07, 2011 --(
PR.com
)-- Mike Langlois, a psychotherapist and educator has written a new book, Reset: Video Games & Psychotherapy, which could alter how psychology views video games drastically.
Langlois, a Teaching Associate in Psychiatry at Harvard Medical School, has some resounding criticisms of the prevailing attitude in a field that frequently demonstrates disinterest and disdain for gamers and the video games they love. Rethinking the tendency to pathologize gaming from the outset rather than explore the meanings and enjoyment associated with it, the book takes on issues of stereotyping, class assumptions about technology & posits that video games may actually help people.
Drawing from research and current thinkers such as Jane McGonigal and Seth Priebatsch, Langlois casts a psychoanalytic eye on video games, technology and the practice of psychotherapy. Using examples from World of Warcraft, Epic Mickey and The Legend of Zelda among others, the book shows how understanding video games may not only improve therapists' ability to treat their patients who play, but improve their clinical and business skills. In all, Reset: Video Games & Psychotherapy takes a fresh look at video games and technology, their impact on our lives, and what they could mean for the future of psychotherapy.
"Ninety-seven percent of all adolescents in the US play video games, & more than half of the adults in this country play video games regardless of their race or income," Langlois writes, and goes on to state that "psychotherapy has passed the point where learning about technology is negotiable."
About Mike Langlois, MSW, LICSW
Mike Langlois received his BA from Connecticut College in 1991, and his MSW from Smith College School for Social Work in 1994. He has over 15 years of experience counseling adults and families. He is currently an adjunct faculty member of Boston College School for Social Work and a teaching associate in psychiatry at Harvard Medical School. Mike is licensed by the Commonwealth of Massachusetts as a Licensed Independent Clinical Social Worker.
The book is currently available for in digital form for $2.99 on Amazon, and Barnes & Noble as well as other online publishers, and will be appearing in print form later this month.
For more information about Reset: Video Games & Psychotherapy, please visit contact the author at 617-776-3409.
###