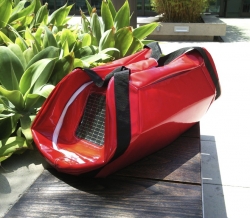 Los Angeles, CA, September 06, 2011 --(
PR.com
)-- NY Moves Magazine gave Project Runway Designer, Andrae Gonzalo (noted darling of the 2nd season), a challenge to create a bag that no one has ever seen for a Keep a Child Alive AIDS charity auction in celebration of Fashion's Night Out. With the help of a new, progressive, LA-Based design house, Silvr Lining, Gonzalo delivered. Andrae has created an original duffel bag with windows designed to incorporate 2 fully & independently functioning solar panels for charging mobile tech. Andrae has donated the first version of the bag & Silvr Lining has donated the panels for this very worthy cause.
The bag, a perfect "weekender" trip accessory, was inspired by Silvr Lining's GO Collection of solar-integrated sportswear. Whether you purchase the new bag or just want the solar juice, Silvr Lining can customize the panels for your specific tech. Output power is highly precise & conditioned for automatic charging of personal devices. These panels are self-contained, carry-anywhere chargers & are USB 2.0 (ANSI) compliant.
The bag will be officially launched during the week of September 5th, coinciding with Fashion's Night Out but, due to the charitable nature of this event, will not be available for purchase until September 16th (after the auction). After September 16th, the bag will be available at andraegonzalo.com. The solar panels are currently available at http://silvrlining.com/_go_cart_pwrsup_05V-5A-001.htm. Please let us know how best to serve your audience with this breakthrough in fashion-tech development.
For more information, photos or interviews, please contact Jamie Benson, Digital Relations Officer @ (323) 704-5287. Silvr Lining: 711 South Olive Street #511, Los Angeles, CA 90014.
Contact: Jamie Benson, Digital Relations Officer
(323) 704-5287
jamie@silvrlining.com
###