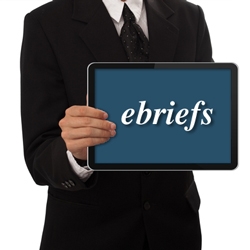 Washington, DC, September 07, 2011 --(
PR.com
)-- A2L Consulting today announced a first in efficient electronic legal document filing. It has produced and delivered what it believes to be the first
hyperlinked electronic brief ("e-brief")
designed specifically for viewing on the iPad.
To date, e-briefs have been built primarily for viewing on a laptop or desktop PC, and this iPad compatible e-brief is believed to be the first of its kind officially used in a court filing. Though A2L Consulting developed this technology last year, it was only last month that a progressive law firm required that the iPad format be provided along with traditionally used electronic PDF files.
E-briefs are electronic versions of paper-based court filings (e.g. motions, briefs, complaints, etc.) where cited materials (e.g. cases, documents, exhibits, etc.) are hyperlinked from the main document instead of being provided in voluminous paper form. Since court filings produced in paper form number in hundreds if not thousands of pages and are reproduced hundreds of times – creating an unwieldy and non-environmental friendly result – they are increasingly being frowned upon by courts.
Before A2L Consulting released its iPad-friendly e-brief, the delivery formats typically utilized were CD/DVD or USB flash drive. While these formats suited most purposes in the past, evolving technology has opened up the opportunity to use other electronic medium – further increasing the reader's ability to quickly, accurately and efficiently review the brief's contents.
Said Ken Lopez, CEO of A2L Consulting, "In a climate where accessing information in a user friendly, well organized manner is paramount for understanding the important points of any case, smart companies and their counsel are looking to use the best and most accessible formats available in filing their information." Toward that end, when a large retailer had an important legal document to file, they and their lawyers made the decision to make the information viewable on an iPad. When their outside counsel surveyed potential suppliers – they found only one vendor that could demonstrate the capability of providing an e-brief on an iPad, and that company is A2L Consulting.
Just as one size does not fit all, neither does one technology fit all reader's preferences in reviewing content. "In this intensely mobile society that we operate in, judges and their clerks need content to be easy to view and references readily accessible", stated Theresa Villanueva, Senior Litigation Consultant for A2L Consulting. Ms. Villanueva went on to say, "we leverage portable technology to access data and service our clients wherever we are - 24x7x365, and thus it makes good sense to offer convenient access to court documents so that reviewing the content is seamless and highly accurate wherever the reader chooses to review it."
The outcome of this collaboration between consultant, law firm and retailer was a high quality, highly accurate electronic brief that made reviewing documentation easy and iPad accessible. In doing so, these firms have set a new standard for electronic brief filing and paved the way for information access methods to come.
About A2L Consulting
A2L Consulting offers
litigation consulting services to law firms and corporations worldwide. The firm's services include jury consulting, the consultative design of litigation graphics and deployment of pre-trial technology, courtroom electronics and the personnel to support that technology
. A2L headquarters is in Washington, DC and it has personnel or a presence in New York, Miami, Houston, Chicago, Los Angeles and San Francisco. The firm's work routinely takes it to those cities plus Boston, Newark, New Jersey, Wilmington, Delaware, Philadelphia, Virginia, Maryland, Atlanta, Dallas, Phoenix and London, England. Since 1995, A2L Consulting has worked with litigators from 100% of top law firms on more than 10,000 cases with trillions of dollars cumulatively at stake.
*iPad is a trademark of Apple Inc.
###