Unbound Medicine and Elsevier Announce Partnership with Launch of Harriet Lane Handbook for Mobile Devices - Multi-Platform Release First Under New Licensing Agreement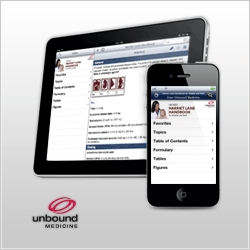 Charlottesville, VA, September 13, 2011 --(
PR.com
)--
Unbound Medicine
, a leader in knowledge management solutions for healthcare, today announced a new licensing relationship with Elsevier, a leading provider of medical information products and solutions, with the launch of Harriet Lane Handbook for iOS (iPhone®, iPod touch®, iPad®), Android™, BlackBerry®, and Windows Phone®. The release marks the first of a series of mobile digital products to be made available via the Unbound™ Platform.
Simultaneously, Unbound Medicine will release Harriet Lane Handbook Plus, a bundled mobile and web application that adds a complete drug database, a drug-interaction checker, and Unbound's unique suite of literature search and management tools. Both versions demonstrate features of the Unbound Platform ideal for finding and applying expert knowledge in the clinical setting. These include device-optimized user interfaces for both smartphone and tablet screens, a Universal Index Search for fast identification of content across multiple resources, Cross Links that guide users to related content, journal tables of contents, and access to more than 20 million MEDLINE® journal articles.
"Doctors, nurses, and students increasingly rely on smart phones and tablet computers for immediate answers to questions about patient care in the clinical setting," said Randy Charles, managing director, Global Clinical Reference, Elsevier. "By partnering with Unbound Medicine we can leverage state-of-the art technology to ensure that Elsevier publications are readily available whenever and wherever they are needed."
"The Harriet Lane Handbook has long been the 'go to' pocket reference for residents and physicians engaged in the care of infants, children, and adolescents because of its concise, authoritative guidance and its extensive formulary of pediatric drug information," added Bill Detmer, MD, president of Unbound Medicine. "We are pleased to integrate our expanding platform features with outstanding Elsevier content to create applications that are well suited for use at the point of care."
For more information, please visit
www.unboundmedicine.com/harrietlane
.
About Unbound Medicine
Unbound Medicine is a next-generation healthcare knowledge company. Unbound produces award-winning mobile and web products for partners and healthcare professionals using its end-to-end digital publishing platform and information architecture expertise. Additional information is available at
www.unboundmedicine.com
.
About Elsevier
Elsevier is a world-leading provider of scientific, technical and medical information products and services. The company works in partnership with the global science and health communities to publish more than 2,000 journals, including The Lancet and Cell, and close to 20,000 book titles, including major reference works from Mosby and Saunders. Elsevier's online solutions include SciVerse ScienceDirect, SciVerse Scopus, Reaxys, MD Consult, and Nursing Consult, which enhance the productivity of science and health professionals, and the SciVal suite and MEDai's Pinpoint Review, which help research and health care institutions deliver better outcomes more cost-effectively.
A global business headquartered in Amsterdam,
Elsevier
employs 7,000 people worldwide. The company is part of
Reed Elsevier Group PLC
, a world-leading publisher and information provider, which is jointly owned by Reed Elsevier PLC and Reed Elsevier NV. The ticker symbols are REN (Euronext Amsterdam), REL (London Stock Exchange), RUK and ENL (New York Stock Exchange).
###
Contact
Unbound Medicine
Brian Cairy
610-627-9090 x238
www.unboundmedicine.com

Contact