Flu is Here in Palm Beach County: Patients Test Positive for Influenza at Several Local MD Now Urgent Care Walk-in Medical Center Locations
First Influenza Cases of the 2011/2012 Flu Season Roll in This Week at MD Now Urgent Care Walk-in Medical Centers of Boca Raton and Lake Worth, Florida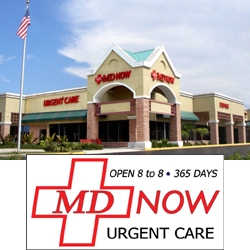 Boca Raton, FL, September 15, 2011 --(
PR.com
)-- As one of the largest providers of walk-in urgent care medical services in South Florida,
MD Now Urgent Care Center's
medical staff had barely been administering the 2011/2012 all-in-one seasonal influenza vaccine to patients, employees and local businesses for less than a month when the center suddenly began seeing its first cases of the flu. In the past, flu season was typically expected to begin in October or November, yet each year it seems to be arriving earlier and earlier. This year was no different.
"We had three patients test positive yesterday, and two today. And I know that we saw several flu patients over the weekend. And they were sick, sick, sick!" says Laurie Kardon, MD, MPH, an urgent care physician working at MD Now's Boca Raton urgent care location.
The flu, more scientifically known as influenza, is a highly contagious respiratory infection caused by influenza viruses. When a person with the flu coughs or sneezes, the virus becomes an airborne contagion – waiting to be inhaled by anyone nearby. The risk of infection is greater in highly populated areas like schools, subways and crowded urban settings. You can also get the flu by touching a contaminated surface like a telephone or a door knob, and then touching your nose or mouth. The influenza virus usually enters the body through mucus membranes in the mouth, nose or eyes.
Sudden onset and severity of symptoms are hallmarks of the flu and help to distinguish it from other illnesses, like the common cold. Other indications include chills and fever, headaches, muscular aches and pain, cough, and runny nose. Sometime these symptoms are accompanied by vomiting or diarrhea.
On average annually in the U.S.: 5% to 20% of the population gets the flu; over 200,000 people are hospitalized from flu complications; and about 23,600 people die from the flu-related causes. Older adults, young children and people with specific health conditions are at higher risk for serious flu complications.
Peter Lamelas, MD, the CEO and Medical Director of MD Now Urgent Care Centers, is a former ER doctor and Emergency Department Director for over seventeen years. He is no stranger to treating influenza and its complications.
"In the past, little could be done in the way of treatment for the flu other than to manage its symptoms incidentally. Modern antibiotics were and are still useless against the disease because of its viral - not bacterial -nature," says Lamelas.
"Nowadays, influenza can now be diagnosed quickly and inexpensively through a simple in-office procedure where the patient submits to a nasal swab test, known as a Rapid Flu Test," he adds.
"Thankfully, several prescription antivirals are now available which have been proven to shorten the duration of the flu – but there's a catch. Antiviral medications are most effective when taken within 12-48 hours of your first symptoms," says Lamelas.
"So act fast."
Think Prevention.
"Having the flu shot is certainly preferable to having the flu," says Dr. Lamelas. He offers his patients $20 Flu Shot coupons available on his website at
www.mymdnow.com/coupons.htm
to encourage their participation in the flu shot program. This is a significant price savings over local Walgreens and CVS pharmacy prices of $29.99 each. MD Now accepts Medicare, and pneumonia vaccinations are also available.
Every flu season is different, but according to the CDC, studies going back to 1976 have found that flu-related deaths ranged from a low of 4,700 to a high of 56,600. During a regular flu season, the majority of flu deaths occur in people age 65 years and older.
"That's what made the novel strain of H1N1, known as 'swine flu' virus, so concerning," says Dr. Lamelas. "Because of their lack of immunity to the new strain, much greater numbers of people were affected and at a much younger age."
This year Lamelas' clinics are busy administering two types of flu shots which are available every day on a walk-in basis from 8a to 8pm in all locations. Both offer protection against the H1N1 'swine flu' virus and for the seasonal flu virus.
"We have the regular flu shot, which is approved for people ages 6 months and older, and we have the new high dose flu shot approved for people 65 and older. Each of these two seasonal flu vaccines protect against the three influenza viruses that research indicates will be most common during the 2011-2012 flu season. They include protection against an Influenza A and an influenza B virus, as well as the newer H1N1 'swine flu' virus mentioned above.
"Even healthy people can get extremely ill from the flu, and spread it to loved ones and others who may not be as resilient. So it's not just about protecting yourself this flu season; it's about protecting the people around you," says Lamelas.
"If you've never been to an urgent care center, here's your chance to try us out, protect your health and save money at the same time. Stop in to one of our clinics and get your flu shot today."
Who should get the Seasonal Flu Shot?
According to the CDC, flu seasons are unpredictable, although epidemics happen every year. They believe everyone 6 months and older should get a flu vaccine. This recommendation has been in place since February 24, 2010 when CDC's Advisory Committee on Immunization Practices (ACIP) voted for "universal" flu vaccination in the U.S. to expand protection against the flu to more people.
Flu vaccines cause antibodies to develop in the body to provide protection against infection from the viruses that are in the vaccine. Those antibodies do not begin to develop until at least two weeks after vaccination. That's why the CDC recommends you get a seasonal flu vaccination as soon as it becomes available. With the first cases of influenza quickly becoming evident in Palm Beach County, it's important to act now for the greatest protection.
Vaccination is especially important for people at high risk of serious flu complications, including young children, pregnant women, people with chronic health conditions like asthma, diabetes or heart and lung disease, people 65 years and older, and caretakers of these populations.
Here are three steps you can take to reduce or prevent you and your loved ones from the adverse effects of the flu this season:
Step # 1 – Take the time to get vaccinated. The single best way to protect yourself and others against influenza is to get a flu vaccination each year.
Step #2 – Take everyday preventative precautions.
Wash your hands regularly and frequently with soap and water. Alcohol based hand sanitizers are also effective in reducing the spread of germs. Use disinfectants to routinely clean frequently touched surfaces, like doorknobs, keyboards and telephones. Avoid touching your eyes, nose or mouth places where the flu virus enters the body.
Step #3 – Take anti-viral drugs if recommended. Antiviral drugs are not sold over-the-counter and are different from antibiotics. If you get the flu, antiviral drugs can make your illness milder and make you feel better faster. Antiviral drugs work best if started within the first 2 days of symptoms. They may also prevent serious flu complications.
For current updates on influenza and our flu vaccine status, check our website at
http://www.MyMDNow.com
.
About MD Now Urgent Care
MD Now Urgent Care Centers
is one of the largest providers of urgent care walk-in and occupational medical services in South Florida. The company currently has six locations throughout Palm Beach County: West Palm Beach, Palm Beach Gardens, Lake Worth, Royal Palm Beach, Boynton Beach and Boca Raton, with plans to open two more locations within the coming year. Owned and founded by Peter Lamelas, MD, MBA, the facilities are full service urgent care centers and provide a wide spectrum of services, including occupational medicine, drug and DNA testing, school physicals, work physicals, tetanus shots, flu testing, flu treatments, digital X-rays, onsite lab work, confidential STD testing, car accident and on the job injury medical care.
MD Now's urgent care centers provide a cost-effect alternative to the emergency room and a more convenient option than waiting for a doctor's appointment. Each location is open 365 days a year from 8:00am to 8:00pm, including weekends and holidays. At MD Now Urgent Care Centers, most patients are seen, treated and released in less than an hour. All major insurance is accepted and no appointment is necessary. Certified by the Urgent Care Association of America.
###
Contact
MD Now Urgent Care Walk In Medical Centers
Peter Lamelas, MD, MBA, FAAEP, FACEP
561-420-8555
www.MyMDNow.com
Urgent Care Center; 561-688-5808
Call toll free;
1-888-MDNow-911 or 1-888-636-6991

Contact