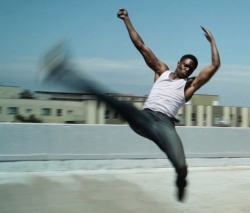 New York, NY, September 18, 2011 --(
PR.com
)-- Musician, singer, actor and accomplished dancer Ephraim M. Sykes' film Leave it on the floor finishes its Toronto International Film Festival run this week. But, not before Toronto.com calls the young performer the "best of the lot."
With his great abilities, Ephraim's performance has received praise before. Earlier this year The Hollywood Reporter wrote of his "thrilling voice" and his "unmistakable charisma." Ephraim is apart of a gifted set of actors who put the roles across well in this energetic new musical.
Sykes transforms into a young man who is kicked out of his home because he is gay. It is this persuasive transformation that makes him the "best of the lot."
Leave It on the Floor is Sheldon Larry's audacious, raunchy and big-hearted musical—with songs by Beyonce's music director Kim Burse and choreography by Beyonce's dance master Frank Gatson Jr.—takes us into the fabulously funky world of voguing. Here the setting is contemporary downtown L.A. Our hunky, homeless hero Brad, discarded by his homophobic mom, falls in with the members of the House of Eminence, ruled by the stern aging diva Queef Latina, who keeps a careful, loving watch over her makeshift family of runaways and throwaways. When two of her crew fall for Brad, the Queef is royally unamused.
###