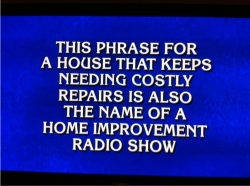 Sunrise, FL, September 29, 2011 --(
PR.com
)-- Alex Trebek (Host): "This phrase for a house that keeps needing costly repairs is also the name of a home improvement radio show."
Answer: "What is The Money Pit?"
Alex Trebek: "Correct!"
On September 20th, The Money Pit, which is the most widely distributed syndicated home improvement talk radio show in the nation, was the correct answer to the $1,000 question. "JEOPARDY," is estimated to reach an audience of 9 million each week.
JEOPARDY, America's favorite trivia show since its debut in 1964, features questions as "answers" about the most important matters in pop culture, history, literature and the arts. "We were thrilled to learn that our home improvement radio show played a role in such an iconic show as JEOPARDY," said host Tom Kraeutler.
The Money Pit is America's most listened to home improvement call-in radio show, helping millions of callers and listeners with their home repair and improvement problems. Hosts Tom and Leslie have answered thousands of questions on a wide variety of home improvement topics, ranging from remodeling to mold and everything in between.
The Money Pit hosts were named among "The 100 Most Important Talk Show Hosts in America" by Talker's Magazine, the industry's most influential journal. It's been on the air for over 12 years and is carried on over 275 radio affiliates across the nation, in addition to Sirius XM satellite radio. According to respected talk radio consultant Holland Cooke, "When your show is used as the answer to a question on Jeopardy—you know you've made it."
The Money Pit website offers free tips and advice and has created a community of motivated home improvement fans exchanging ideas and information on everything to do with home improvement, home decoration, remodeling and repairs.
For more information on The Money Pit or to call or post a question about your home, visit
http://www.moneypit.com/
or call 1-888-MONEY-PIT.
###