Family Drama Novel "Comes Out" on National Coming Out Day
"Well With My Soul" (ISBN: 978-0-9836049-07) is Gregory G. Allen's debut novel. This story of two brothers attempting to find peace in their complicated individual lives over a fifteen year period will be released by ASD Publishing on October 11, 2011.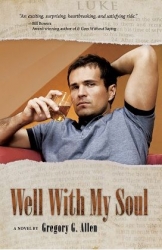 Hawthorne, NJ, October 08, 2011 --(
PR.com
)-- When Gregory G. Allen started writing Well With My Soul, he never thought about readers thinking of it as gay fiction; for him it was about family. He wanted to embark on a universal story that chipped away at the character's surface revealing two different brothers that continually fight through early adulthood. One brother escaping the country life of Tennessee to run off to New York to make his mark on the world (leaving the other brother holding the proverbial bag) seems like a story as old as Cain and Abel in the Bible. But in this case, one brother is a liberal gay man while his conservative Republican brother never understood choices the other would make. The story follows both through fifteen years of life in which one brother ends up becoming a minister and preaching his dogma while the other believes homosexuals are born that way and cannot change.
"In a country where gay and lesbian rights have become a hot topic on every political pundit's tongue and closeted gay men show up in scandalous headlines, I wanted to investigate beneath the surface of those types of stories," says Allen. "The people in the center of these news stories do not just wake up one day and check a box stating gay or straight. Something has to be going on to get them to this point of denial or acceptance in their lives."
That's when Allen knew he wanted his debut novel to come out on October 11 which is National Coming Out Day. "The story is about accepting your true self," Allen says, "and that is what October 11 is all about."
Jacob and Noah Garrett strive to find peace throughout their lives, but face some very trying times during their search. The story travels back and forth between Tennessee and New York as the brother's paths continue to cross and the decisions they make affect each other throughout their lives. Told through the first person perspective of each brother, chapters switch from one brother's quest to the other: Jacob in New York living the high life at studio 54, sexcapades, addiction, and climbing the entertainment industry ladder; and Noah's attempt in Tennessee to find meaning through his southern life and follow dreams of his own.
Allen chose the late 70s and 80s to set the story for not only its historical significance, but because the country was a very different time then. "Prior to the word AIDS being said, people were much more open about sexuality in the larger cities," Allen says. "Leading into the conservative years of Reagan when the country began to lean right, people's sexual proclivities went back into the closet to be hidden. Homosexuals were blamed for AIDS, people were scared and evangelicals saw an opening to grab hold of the countries fear of gay people."
It seems as if others view this story as more than genre fiction as well. Veteran film, television, and stage actor Louis Zorich calls the novel "A fascinating read – a gripping and ultimately moving story about the undying love of brothers and family that raises our spirits by affirming the power of change in our lives."
The Reverend J.R. Finney II from the Convent Community Church in Birmingham, Alabama says "This amazing and engaging book caused me to hope that it will help many who read it to see beyond the angry God of our religious upbringing to a God of unconditional love."
Well With My Soul is published by ASD Publishing and can be purchased wherever books are sold at independent books stores or online book suppliers such as B&N or Amazon. $13.99
About Gregory G. Allen
Allen spent many years in the entertainment world as an actor, director, producer and playwright before writing this story. He also was brought up in the Southern Baptist Church before moving to New York from Texas in the late 80s and has spent many hours in the church. After a varied career that included touring as a Teenage Mutant Ninja Turtle and working for years in Corporate America, he has settled down in New Jersey as is the Managing Director of an arts center at a college. Allen drew on his past, people he's met through the years, and his curiosity about what draws people to and from the closet to write this story. He is the author of Proud Pants: An Unconventional Memoir, several published short stories, has written half a dozen musicals produced on stage and has won a Best Score award for his musical River Divine. This is his debut novel. www.ggallen.net
About ASD Publishing
ASD Publishing is an independent book publisher based in New Jersey specializing in thought-provoking literary fiction, memoir, and self help non-fiction. www.asdpublishing.com
###
Contact
ASD Publishing
Anthony DiBella
973-280-0145
www.asdpublishing.com

Contact