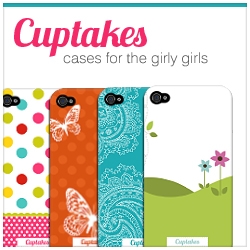 Austin, TX, October 14, 2011 --(
PR.com
)-- Users have asked for more and Cuptakes is delivering. The Announcement and Launch for
Cuptakes Cases
to complement the
Cuptakes App
has arrived. The immense popularity of the Cuptakes App in the App Store has now a matching partner that follows the App's monthly updates which are designed just for girly girls. Users will enjoy a selection of exclusive designed cases coined, "Cuptakes Cases," that offer a custom protective solution that are just for the female crowd in a male dominated market.
Notable features include:
- Original exclusive cases that are just for girly girls.
- The cases match the popular Cuptakes App.
- The Case Store includes 120+ cases for your iPhone or iPod touch.
- A high resolution 300dpi wrap brings out the best in Cuptakes designs.
- Cases for any mood or style, with new ones added all the time.
- Form Fitting. Fits to create a slim and sleek profile.
- Hassle Free. Complete access to all buttons and ports.
- Impact Resistant. Built with a flexible and strong shell for durability.
- Monthly updates will include new matching and seasonal design styles.
"My goal was to offer something I wanted myself, and that is, true original girly girl case designs for my iPhone that expresses my style. The iPhone has been such a joy, and I just wanted to complement something that's already awesome!" said Lauren, graphic designer behind Cuptakes and Restored 316 Designs.
Users can purchase the Cuptakes Cases at the Cuptakes Case Store found at Cuptakes.com
At launch, Cuptakes Cases will include 120+ case designs with subsequent new additions added monthly to reflect the Cuptakes App updates and seasonal styles.
The cases retail for $34.99 in the Cuptakes Case Store at http://store.cuptakes.com/ and are available in the United States as well as selected countries World Wide.
Media Contact: Lauren – hello@cuptakes.com
About Restored 316 Designs
Restored 316 Designs is a graphic designs studio operated by Lauren, with the intent on helping clients establish their personal or professional identity through design via website or blog channels. For additional information, you can visit http://www.Cuptakes.com as well as http://www.Restored316Designs.com
About Finely InTouch
Finely InTouch is a service site that deals with the development portion of great ideas and seeing them come to life. For additional information, you can visit http://www.finelyintouch.com.
###