HealthSaaS and Happtique Alliance to Chart New Territory for Patients and Physicians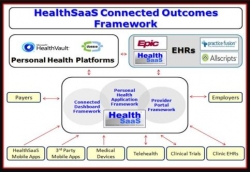 Portland, OR, October 19, 2011 --(
PR.com
)-- Today, HealthSaaS, a leader in the Health 2.0 movement, and Happtique, Inc., the leader in application stores for hospitals and other healthcare organizations, announced an alliance to create a custom app catalog of mobile health applications that will connect patients through their mobile phones and tablets to their healthcare organizations and ultimately to their physicians via a secure network and framework.
The new connected health app catalog will offer a suite of mobile apps for both patients and physicians which enables patients to perform remote self-monitoring of their health. The HealthSaaS Connected Outcomes Framework will capture physician-requested data collected by patients on their mobile devices onto a secured, white-labeled provider portal and optionally into backend Electronic Health Record systems (EHRs). This platform-agnostic solution will bring patient data into the heart of clinical practice information flow where it can have a profound and positive impact on outcomes. HealthSaaS will provide the custom connected apps while Happtique will provide the means for healthcare providers to manage and control the deployment of the apps to their patients.
Frank Ille, CEO, of HealthSaaS said, "We are excited to announce this innovative alliance with Happtique because of the impact that it can make on our healthcare system. By using our HealthSaaS Connected Outcomes Framework, it is easy to pass patient collected data to any EHR system. Its use enables clinicians to be more proactive in the monitoring of treatment regimens while improving patient outcomes and lowering costs."
Corey Ackerman, President, Happtique said "We are thrilled to be working with HealthSaaS to offer custom, connected mobile applications to our healthcare enterprise customers. Solutions like these represent the holy grail of health apps, and Happtique is excited to help providers manage their deployment."
HealthSaaS is currently arranging trials for the use of the new technology with selected hospitals, and practices.
About HealthSaaS
HealthSaaS (HSI) is leading the Health 2.0 movement by creating cloud based health information technology solutions. Our patent pending Connected Outcomes Framework can aggregate disparate data from many sources including mHealth applications, cloud based services, Telehealth solutions and connected medical devices. The framework removes silo barriers and makes data available to clinician practices, provider networks, payers self funded employers and EHR systems.
http://www.healthsaas.net/
About Happtique
Happtique, powered by AppCentralTM, is the first mobile application store developed by healthcare professionals, for healthcare professionals. Happtique offers healthcare enterprises—like hospitals, continuing care facilities, and physician practices—the ability to create individually branded, secure, multi-platform app stores that support employee and patient mobile technology use. Happtique is a subsidiary of GNYHA Ventures, Inc., the business arm of the Greater New York Hospital Association.
http://www.happtique.com/
###
Contact
HealthSaaS, Inc.
Frank Ille
503-882-8951
www.healthsaas.net

Contact