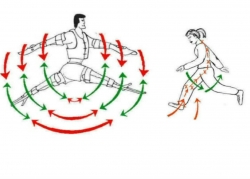 Columbus, OH, October 31, 2011 --(
PR.com
)-- Craig Wise, the structural engineer who created the No-Compression "Bodybuilding in Water" workout and the joint bypassing Body Oars (Google "World's greatest water exercises" or "World's greatest workout device") has a fact based theory that starts with both children and adults needing deep body muscle and cardio exercise, 3-4 times a week.
However he believes that the similarities end there.
He explained it this way: "It is common medical knowledge that a child's bones are far softer then adults simply because they are still growing, and they heal much faster.
"It is also verifiable that growing bones and joints take cues from how they are being stressed which causes them to grow in ways that better handle their hardest work."
These three facts strongly indicate that frequently hard exercising a healthy child's bones should provide them with considerably stronger skeletons when they stop growing up.
However Wise continued, "Once the child becomes an adult their bones and joints harden and continually become more brittle as they grow older. So unlike children adult joints bones and spinal disks wear down a little (to a lot) each time they are overworked, and this problem continues to accelerate as they age."
You can see this effect rapidly exaggerated by comparing the career length of pro football players to pro golfers.
"Once we become an adult," Wise added, "only our muscles continue to heal to a stronger state after being overworked, so in order to stay very strong for a long life adults should not do muscle strengthening exercises that overload their bones, which forces their joints and disks to oppose their muscle contractions, not the method or device."
He theorizes that children need heavy exercises that overload their skeletons to work their muscles, while adults need heavy methods which only overwork muscles.
"Unfortunately," he states, "almost every muscle strengthening exercise humans are still being taught drives all of the involved forces through their skeletons to get at their muscles."
He believes that most modern muscle building exercise methods and devices look to be perfect for our children, but prematurely destructive for adults.
Eleven years ago Wise became infatuated with developing new adult exercise methods that fully load only their big muscles by not driving the forces through their bones. He used the structural engineering science of Force Mapping to design hundreds of new methods and devices that do just this.
However Wise also claims the mainstream fitness, health and media powers, along with the government have treated his independent average Joe discoveries and inventions "like the Ice Barons likely treated the coming of refrigerators."
So recently he edited together about 40 of his most basic direct muscle loading exercise methods, which he originally video recorded for personal study, and created seven short video classes, averaging about 6 minutes each. The first is about this science and then each covers several areas of the body.
He has now posted them on the home page of bodybuildinginwater.com where everyone can watch, for free.
Wise says that he has not reviewed any medical research on running the crap out of children, and there may be powerful reasons why we should not run the stuffing out of them, so this report is not a recommendation that you do. He says that, "all people need to be cleared for any new exercise program by their doctors first."
He does recommend that all adults should watch those seven classes to learn how it is possible to deeply exercise only their large muscles without overloading their joints, bones and vertebrae.
###