Barrington Pools Brings Chemical-Free UV Pool Sanitization Technology SpectraLight to Chicago
Chicago pool builder, Barrington Pools is now the exclusive Master Dealer for UltraViolet Pool Sanitization technology from SpectraLight. This technology helps pool owners lower chlorine levels producing a safer, healtier, and more visually appealing swimming pool experience. By allowing lower chlorine levels, SpectraLight also reduces athma symptoms as well as eye and skin irritation caused by chlorine and chlorine by-products.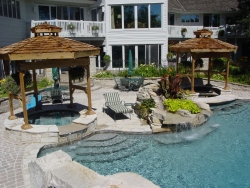 Chicago, IL, November 16, 2011 --(
PR.com
)-- Barrington Pools (http://www.barrington-pools.com) is now the exclusive Chicago Master Dealer for Spectra Light, ultraviolet pool system. SpectraLight harnesses ultraviolet light to lower chlorine levels, eliminate chlorine by-products, and makes pools safer, healthier, more visual appealing, and more easy to manage. This UV pool sanitization technology is a great "green" alternative to relying on chemical-based solutions such as chlorine. Barrington Pools can install it during construction of new pools, as well as upgrading existing pools - making them safer, more pleasant to use, and cheaper to operate.
According to Dr. Alfred Bernard from Catholic University of Louvain, "The impact of these chemicals on the respiratory health of children and adolescents appears to be much more important - at least by a factor of five - than that associated with second-hand smoke."
Salt water or saline pools - a common alternative to traditional chlorine is no better for pool health and safety. According to the Association of Pool and Spa Professionals, "a salt water pool equals a chlorine pool." Salt water pools simply use electrolysis to manufacture chlorine from salt.
"It is thrilling to be the exclusive company to bring this chemical-free pool sanitization system to pool owners in Chicago," says Mike Murillo, Marketing Director for Barrington Pools. "SpectraLight UV is trusted by the US Navy's Marine Mammal Program, and a similar system was used to protect swimmers from the side effects of chlorine during the Olympic games in Beijing."
Because SpectraLight uses ultraviolet lamps to destroy organic material and pathogens with light, chlorine and other chemicals added to the water can be reduced by 80-90% - representing an annual savings of typically $400. Additionally, by removing harsh chemicals from the water, pool surfaces, pumps, filters, and heaters will all last longer.
As the exclusive representative for SpectraLight in Chicago, Barrington Pools is able to install this system in any new pool, as well as upgrade most existing pools. This can make the upgraded pool cheaper to operate and safer for Chicago families wanting to make their
swimming pool experience
the best it can be.
For more information about how SpectraLight and Barrington Pools can deliver the best, safest swimming pool experience, please visit Barrington Pools' website at http://www.barrington-pools.com, or contact Heather Hills heather@mhnpr.com or call: 630-233-8336
About Barrington Pools:
Chicago based Barrington Pools designs and manages the construction process to provide outdoor living possibilities customized for homeowners and commercial clients that need the best quality and technology in swimming pools, spas, patios and landscapes. Barrington Pools turn-key design and construction services are supported after installation by maintenance plans. Please visit us at http://www.barrington-pools.com for more information.
###
Contact
Barrington Pools
Heather Hills
630-233-8336
http://www.barrington-pools.com

Contact