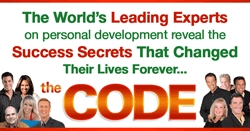 Rancho Santa Margarita, CA, December 23, 2011 --(
PR.com
)-- When you think about "the code," you might think of a combination or password, but if you were told to dream bigger, perhaps you would think of the code to a more successful and joyful life. This big dream can come true as you crack "The Code," a downloadable ebook with secrets to success offered by some of the world's experts in wellness, finance, nutrition, fitness, business, stress management, wealth creation and life abundance.
Available online at http://www.thecodeebook.com/ for just $3.97, "The Code" brings together world-class experts from a variety of industries to deliver information on achieving results in health, money, love, stress, business and more.
"After studying human achievement for two decades, I decided to bring together these great minds to create a comprehensive guide to success, abundance and fulfillment," said John Spencer Ellis, creator of "The Code" and founder of John Spencer Ellis Enterprises, a personal development and fitness solutions company. "All of these experts teach that true success comes from having balance and abundance in all areas of your life and that anyone can achieve this."
In addition to Ellis, other experts include:
Joe Vitale, star of "The Secret" movie, who offers a five-step attraction system;
T. Harv Eker, author of "Secrets of the Millionaire Mind," which hit No. 1 on the New York Times, Wall Street Journal and USA Today bestseller lists;
Chalene Johnson, entrepreneur, TV fitness personality, motivational speaker, author, choreographer and clothing designer;
Dr. Topher Morrison, the recently appointed president of the board of directors for the Association of Integrative Psychology;
Debbie Allen, The Shameless Success Expert, and a business-building strategies expert;
And many more. More than 40 leading experts contributed to the collaboration.
According to reader Justin Stein, "I have never learned so much from any one source in my life!"
About John Spencer Ellis Enterprises and The Code
John Spencer Ellis Enterprises is a solutions provider for fitness and coaching professionals around the world, providing education, turn-key business programs, coaching and resources for new and advanced fitness and coaching professionals. For more information about John Spencer Ellis Enterprises or The Code, please visit
http://www.thecodeebook.com/
###