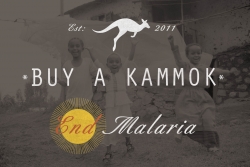 Austin, TX, November 30, 2011 --(
PR.com
)-- Kammok, an outdoor gear and equipment brand, has seen tremendous growth since its successful launch on the crowd-funding platform Kickstarter in July 2011. Today, Kammok is excited to announce that it has formed a strategic partnership with the non-profit organization, Malaria No More.
For every person who purchases a Kammok Roo (camping hammock), whether through a retail store or the Kammok website, they are providing a family in Africa with a life-saving mosquito net or a health education through Malaria No More. Their purchase will also contribute to the environmental and holistic development in Kenya through CTC International, a non-profit member of 1% For The Planet.
Malaria No More is a non-profit organization determined to end malaria deaths in Africa by 2015. Along with their partner organizations they are working hard to empower local action. One way this is happening is by providing information about the effectiveness of long-lasting insecticide treated bed nets, as well as educating families, communities, and governments in Africa. This education helps people understand the causes of malaria and how to prevent its spread from killing many more.
"We are a brand that focuses on three initiatives: Give, Develop and Sustain. We believe in giving a 'Hand Up' rather than a 'Hand Out'; therefore we are committed to educating Africans on the causes and ways to protect against this terrible disease. We are incredibly excited about this partnership because it embodies our original dream to help end child deaths from vector-borne diseases like malaria." -Greg McEvilly CEO/Founder Kammok
Malaria kills 781,000 people each year. Ninety-one percent of malaria-related deaths occur in Africa, the majority of whom are children under 5 years of age.
Malaria No More is working to make sure that every family in Africa has access to the tools they need to treat, diagnose, and prevent malaria. Malaria No More joins with African leaders in all sectors of society to engage audiences with a locally-driven message in order to change the way African families think about malaria.
"Our giving is focused on going far beyond the purchase of Kammok products. We believe strongly in Holistic Development and Sustainability, not momentary giving. This partnership has been formed after a year of countless hours of research and conversations with numerous organizations. We are proud and excited to enter into this partnership with Malaria No More." -Ty Clark Kammok Director of Marketing and Giving
In 2012 Kammok will be releasing several new and innovative products that help connect the socially conscious adventurer with people in need. Kammok's first initiative with Malaria No More is a breakthrough step in a collaborative goal to end malaria deaths in Africa by 2015.
About KAMMOK™:
Kammok is an outdoor recreational gear and equipment brand that specializes in producing high quality products that: Equip and Inspire people for Life Changing Adventure™. Kammok is a for-profit business purposed to engage in nonprofit humanitarian aid and environmental initiatives with: Our People, Our Products, and Our Profits. To learn more about Kammoks' products and giving structure visit http://www.kammok.com.
###