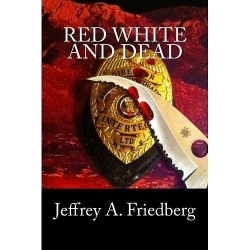 Santa Fe, NM, December 01, 2011 --(
PR.com
)-- Quote:
"He hated FOX; he hated O'Reilly; he hated Sharpton; he hated CNN. He hated all of them....Yes, he thought, kill the media."
Synopsis:
New Mexico private eye Jack Vane was just having a quiet meeting in a public place with former Israeli assassin Yaakov Irgun, now a Jewish Mob kingpin.
Irgun had just informed Jack that he had to find the ancient lost treasure of Spanish Conquistador Francisco Coronado, which might not even exist, or Jack will suffer the consequences.
At that moment, a group of extremist Muslims attack Irgun in a revenge murder attempt, and Jack too. In self-defense, Jack pulls his gun and kills them.
When the media goes crazy, claiming the extremists were "just innocent young men" armed with fake weapons, Jack is accused of being out-of-control and finds himself on radio, TV, and newspapers trying to defend himself. A panel of reporters verbally attacks him, mangling his words and distorting what he says.
When soon after, all the reporters start to turn up dead, Jack finds himself accused of murder. Between trying to solve the murder and discover conquistador Francisco Coronado's lost treasure, Jack finds himself questioning his own sanity and suffering from severe blackouts. And it doesn't help that he hates the media, as he makes clear:
"He hated the media. He hated their breathy, too intimate way of speaking. He hated their weird delivery and affectations—their arrogance. He hated the distortion of truth for entertainment or political agenda. He hated FOX; he hated O'Reilly; he hated Sharpton; he hated CNN. He hated all of them. But he had never dreamed of murder. His entire life had been about truth; finding it or defending it. A sword blade that could not be broken, the truth could never be changed. But it could be lied about, and he hated that too. Yet he had never dreamed of murder before....He thought if journalists started getting murdered as a message, the rest of them would shut up and shut down. He believed they would flee. Yes, he thought, kill the media."
Because "Red, White, and Dead" pulls no punches and leaves no large media, politician, or elitist group unscathed…readers love it.
C.J. Cole (She-Ra) of WVES AM 99.3 in Parksley, VA proclaims it is an, "amazingly entertaining fantasy release, romance, and adventure. The writing, I thought, is just masterful."
Police Officer Ponte of Kingston, NY exclaims, "Wow, it just gets better and better! Goes from Great to Phenomenal, rounded, descriptive…great police stuff, you hear the racking of the shotguns and feel weakening in the stomach."
Award-winning author Linda Sands declares, "The strength of Friedberg's writing lies in his vivid imagination and...action scenes...Jack Vane needs a big screen role...even 3D!"
Finally, award-winning author, Tyler R. Tichelaar, best selling historical novelist, admits, "Who hasn't at some point wished the media could be shut up? 'Red, White, and Dead' fulfills many an American's deep fantasies on a harmless and fun level that makes readers question just what we have let the media do to our society."
About the Author
Author Jeffrey A. Friedberg was a real, gun-toting, Philly Private Eye, doing deep cover investigations like organized crime, surveillance, security, homicide, insurance fraud, and the Internet. He is a 32nd Degree Mason and holds qualifications in judo, Shotokan Karate, and firearms. He has also been an Internet guru, web marketer, and Internet consultant to America Online. He is the author of "Lost Relic of the Gods," "The Secret Pillars of Writing," his new thriller, "Red, White, and Dead" and its upcoming sequel "Red, White, and Dead Again." Today, Friedberg writes in the shadow of a dormant volcano in Albuquerque, New Mexico near the ancient Petroglyph National Monument canyon, its mystical spirits, and gods….
"Red, White, and Dead: The Lost Treasure Conspiracy (Volume 1)" (ISBN 9780615541303, Jeffrey A. Friedberg, 2011) can be purchased online at Amazon and Barnes & Noble.
###