duCret School of Art - Light Shines on a Local Art Community
duCret School of Art, founded in 1926, whose faculty and board members consist of notable and world recognized art professionals has steadily been thrust in the spotlight during the year, as students and faculty have broken ground in the entertainment field.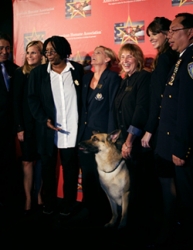 Plainfield, NJ, December 02, 2011 --(
PR.com
)-- Now in its 85th year, duCret holds the distinction of being the oldest non-profit, private art school in New Jersey. For those already immersed in the world of art, duCret is one of New Jersey's well known historic icons. Yet when one mentions the name "duCret" to anyone in the local area, usually the response is a "Wow. I didn't know the school was even here!"
The fact is, duCret is more than just a school for emerging artists, it is an artist's haven and huge community resource. That general state of "public unawareness" may soon change, for in the past year duCret School of Art has found itself in the public eye more than once. Ironically, it is the artists emerging from the school who are creating larger-than-life opportunities for other artists of the area. What started as an on-the-spot sculpting opportunity for Ralph Attanasia in Buddy Valastro's bakery one day, led to an opportunity for other sculpting students. For the past few years now, several duCret students have been regularly featured on TLC's "Cake Boss" television series. Last year, television producers flew Ralph to Italy to shoot an episode.
During late August, Parthenon Entertainment, a UK/Canadian production company came on to the "Fine Art Floor" at duCret and filmed several Tuesday night Open Studio members as part of a documentary on the featured Comic Con model, Amber Love. Parthenon distributes a diverse portfolio of high quality factual and children's properties for the global marketplace.
This September, a duCret staff member was assigned as tour photographer for Rin Tin Tin and attended American Humane Association's fund raising kick-off, "Hero Dog Awards" with Whoopi Goldberg, NYC's Singing Policeman, Daniel Rodriquez, Victorial Stillwell, Orlando Bloom and other TV stars at the National Arts Club in NYC. Rin Tin Tin, recently assigned as AHA's new national spokesdog, rang the Stock Exchange Bell on September 7th, honoring all 911 service dogs, several of whom gave their lives in the trade tower rescue effort.
Traveling to LA with Pet University President Lorraine Zdeb, duCret photographer and founder of The Starkitty Project, Dana Barker then attended the red carpet celebrity gala, "Hero Dog Awards" TV Special, which was aired on the Hallmark Channel on November 11. This very first tribute to service dogs of America drew a huge celebrity crowd including; co-hosts Carson Kressley and Betty White, Victoria Stilwell, Peter Fonda, Mickey Rooney, Paula Abdul, Prince Lorenzo Borghese, Tinsley Mortimer, Orlando Bloom and about 30 other participating television stars. On December 23rd, a re-run of the "Hero Dog Awards" is scheduled and on December 12th and 16th, the Hallmark Channel will air the "Hollywood Christmas Parade," with Grand Marshall, Marie Osmond and co-hosts Erik Estrada and Laura McKenzie, to which Rin Tin Tin made an appearance accompanied by a brand new 20 foot balloon of Rin Tin Tin that was added to the parade this year.
In May 2012, and in alliance with the Bridgewater-Branchburg Holiday Inn Express, Rin Tin Tin will make several personal appearances in NJ, in a huge three-day tribute to service dogs, war veterans and service members of the general community, to which duCret artists also will partake.
In a world of economic instability, artists, who have for decades figured out how to generate inspiration and joy no matter what, are coming to the forefront to teach and enable others to find new meaning in life - through good old fashioned family values. All one really needs to start out in life as an artist, is a pad and pencil, a dream and some imagination. The rest follows when one simply makes the decision to "be an artist." And as several duCret students can attest, big opportunities usually evolve out of an otherwise seemingly insignificant effort. With the aid of the technological boom, in the art world, the possibilities for entrepreneurship and creative expression are realistically endless.
Blending visual art fundamentals together with "the business of art" education, the school is unique in that it is able to effectively train its students to have a strong art base and maintain client bonds all throughout their education. As a community resource, duCret has established client relations with many businesses in the local area. For instance, duCret students designed the Somerset County 4-H summer county fair brochures for approximately 60,000 local residents. The exchange enabled students the opportunity while in class to work directly with the clients, to gain regional recognition for their work and to add professional job ads to their portfolios. The unique community exchange between local proprietors and duCret students helps them to stabilize and succeed as artists in the ever changing world, long before they even graduate.
On Sunday, December 4, from 2 – 4pm, duCret will host an Open House and Miniature Art Sale. Families and local artists are welcome. Coinciding with the Mansion Tours of Plainfield, NJ, several duCret faculty members will also be at various mansions assisting in the tours as well.
Spring Semester begins on January 16th. duCret is currently accepting applicants for the upcoming semester. To apply to the school, call 908-757-7171 or visit the school between 9am – 4pm, Monday – Friday. Further information can be found at www.ducret.edu.
###
Contact
duCret School of Art
Frank Falotico
908-757-7171
ducret.edu

Contact