Slender Cider Launches the First Slimming and Energizing Liquid Herbal Concentrate in a Base of Organic Apple Cider Vinegar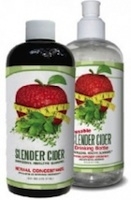 Sarasota, FL, December 06, 2011 --(
PR.com
)-- Slender Cider introduces for the first time an herbal concentrate of 11 therapeutic herbs extracted in a base of organic apple cider vinegar for energy, cleansing, weight loss and health.
For the first time, Slender Cider has combined organic apple cider vinegar, which has been touted for centuries as "nature's miracle food," with 11 therapeutic herbs in a tasty, easy to take liquid concentrate. The herbal/organic cider vinegar combination creates a synergistic effect with better absorbency of nutrients, and as an aid to weight loss, digestive support, energy and overall health.
"I have been offering weight loss and wellness programs for the last 22 years in over 75 hospitals and found that people often need physical support to end cravings, maintain energy levels and lose weight," said Rena Greenberg, weight loss expert, Author, and Creator of Slender Cider.
"I created Slender Cider with 11 nutritious, nourishing herbs that are known to assist with digestion, energy, cleansing, balancing blood sugar and suppressing appetite. They are then blended with organic apple cider vinegar to enhance the benefit of the individual herbs and increase their potency and efficacy."
Slender Cider is made with all natural and organic ingredients and has no refined sugar, no alcohol, no caffeine, no stimulants and no fillers. The roots and leaves of the herbs are fresh brewed in a 5:1 multi-phase process, as if one were brewing a fresh cup of tea - there are no powdered herbs or additives used.
Slender Cider is a pure easy to take Concentrate. Simply add one or two capfuls (tablespoons) of the Concentrate to the free reusable drinking bottle that comes with Slender Cider, add water, and sip throughout the day. Each serving of Slender Cider contains only 5 calories!
"I love the taste of Slender Cider! It's the first thing I take in the morning. It tastes great and is good for you too—a rare combination. I feel more energetic and I'm losing weight. My friends tell me I look great and I feel healthier, too," said Kevin Dayson.
Organic apple cider vinegar is rich in enzymes and life-giving minerals. It helps to alkalize the body and bring the pH to a healthier state. When the body becomes too acidic (through poor diet, stress and environmental factors) it is more prone to illness and disease.
All the herbs in Slender Cider, plus the pure cherry and lemon concentrate work together to bring a person to a more alkaline, balanced and healthier state.
Cinnamon and Schisandra Berry help to balance blood sugar. Ginger, Lemon Peel and Anise improve digestion. Turmeric is a weight loss aid and anti-inflammatory. Clove, Fennel and Cayenne increase metabolism. Chickweed suppresses appetite, and Cleaver's Leaf is a powerful blood cleanser. The Essential Oil Blend in Slender Cider is also beneficial for cleansing, balancing and reducing hunger.
In Korea, flavored vinegars have been popular for hundreds of years for weight loss, anti-aging, digestion, maintaining health and beautifying.
About Slender Cider
Slender Cider was created by Rena Greenberg and introduced in September, 2011, as the first liquid herbal supplement concentrate composed of 11 therapeutic herbs in a base of organic apple cider vinegar, sweetened only minimally with unrefined stevia and pure cherry and lemon concentrates, with no alcohol, caffeine, unrefined sugar or fillers.
Rena Greenberg, Author of The Right Weigh (Hay House Publishing) and The Craving Cure (McGraw-Hill), has been teaching weight loss and wellness since 1990 in over 75 hospitals and 100+ corporations.
Rena has worked with over 100,000 people and her weight loss success has been featured in 150 newspaper and TV stories across the United States on NBC-TV, ABC-TV, CBS-TV, FOX-TV and Women's World Magazine.
Rena created Slender Cider to assist people with blood sugar balancing, weight loss, alkalizing, digestion, cleansing and increasing energy using all natural, healthful and organic ingredients, without stimulants or artificial sweeteners.
Learn more about Slender Cider (Therapeutic Herbs and Organic Apple Cider Vinegar), watch:
http://www.youtube.com/watch?v=o8hvAjeL9uQ
Contact info:
For more information visit:
http://slendercider.net
Contact: 800-848-2822, or info@slendercider.net
###
Contact
Wellness Seminars, Inc.
Rena Greenberg
941-349-3366
easywillpower.com
info@slendercider.net
800-848-2822

Contact