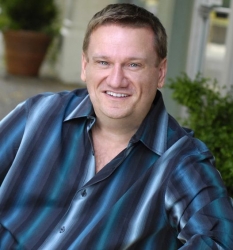 Hawthorne, NJ, December 08, 2011 --(
PR.com
)-- ASD Publishing author Gregory G. Allen has a godson with autism that he spends every Wednesday night at TGIF's eating dinner with because it is Gabe's favorite place. "Most children with autism need a set schedule where they know exactly what is going to happen," says Allen. "And let's just say we don't veer off of that Wednesday night of eating at Friday's where he can get his chicken fingers, French fries and red velvet cake."
One night at dinner, Gabe's sister Natalie (a freshman in high school) and Allen were watching Gabe and started thinking of a superhero named Chicken Boy and a children's picture book idea was born.
"I've had a few adult books published by ASD Publishing, but have a huge background in children's theater," explains Allen. "I got my start writing musicals for kids when I was in high school and even got my equity card as an actor touring in a show that brought well known children's books to life."
Allen noticed that most children's books about autism are from the perspective of a sibling or a friend and never from the mind of the child. "This book (while conceived by myself and Natalie) is told through his voice as a very basic attempt of a child with autism to try and alleviate the concerns of other children around him because of what they perceive as 'strange'. The story shows that children with autism are just like other children, capable of imaginations full of wonderful pretend games," Allen says.
Chicken Boy: The Amazing Adventures of a A Super Hero with Autism has been entered into round one of voting in MeeGenius! Publishers Author Challenge for publication which goes until December 18. The public can visit a website where 400 manuscripts have been entered, read the stories, and vote for their favorite. Some will be chosen to be illustrated for a final round and then the winner will be announced on March 7. Readers can visit
http://meegenius.com/challenge/chicken-boy-the-amazing-adventures-of-a-super-hero-with-autism-by-gregory-g-allen
to support Allen in his attempt to bring autism awareness into the minds of children. The other great thing: Gabe's school, Radcliffe Elementary in Nutley, NJ will benefit with a library of books from MeeGenuis! if the book is chosen as a winner.
"This book is not about me as a writer or what I put out in my adult books," Allen says. "It is all about autism awareness. I want our little chicken boy superhero's story to be read by many, many children. Autism isn't anything for other children to fear...they just need to know a little more about it."
ASD Publishing is an independent book publisher based in New Jersey specializing in thought-provoking literary fiction, memoir, self help and personal growth non-fiction. They have not ventured into the world of children's book publishing, but are proud of the authors on their roster as they create works in other genres outside of what ASD has to offer.
###