DMG Productions to Feature STAR Dynamics on Upcoming Episode of Business Update
Exploring the World of Radar Technology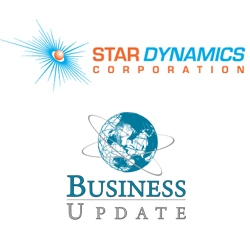 Hilliard, OH, December 20, 2011 --(
PR.com
)-- STAR Dynamics Corporation has announced that they will be featured on an upcoming episode of Business Update.
Since inception in 1988, STAR Dynamics has become a world leader in the field of specialized instrumentation radar technology. The company manufactures precision radar measurement systems used to support a broad range of sophisticated defense technology development, test, and evaluation programs aimed at protecting the US homeland and American lives.
The episode is intended to educate the public on the importance of radar technology associated with national defense. In addition to more well-known surveillance and long-range monitoring applications, specialized radar technology is essential to protecting critical multi-million dollar defense equipment such as advanced fighter jets, missile/anti-missile systems, and numerous other operational ground and naval systems vital to US military forces, both foreign and domestic.
"We are very pleased to be featured on this episode of Business Update," said Dr. Jerry Jost, President and CEO of STAR Dynamics. "The producers have presented the complex, high-tech applications of our radar technology in an entertaining, educational, and stimulating manner. While highlighting our unique contributions to national defense with advanced radar systems, this program also provides an insightful perspective on the evolution of radar technology in general. It's an exciting, informative show!"
"Radar is a fascinating technology that doesn't get highlighted enough." said Vince Moss, producer for the series. "This behind-the-scenes technology is responsible for safeguarding some of the most advanced and expensive equipment currently operated by our military."
About Business Update:
Business Update is a corporate-America type series covering the world of business, finance and technology. From Main Street to Wall Street, our award-winning producers take an in-depth look into some of the hottest topics and current trends impacting our society.
For more information visit: www.dmgproductions.org or call (866) 496-4065.
About STAR Dynamics:
STAR Dynamics is universally recognized for innovating and developing unique, special-purpose radar systems and associated technology used to support a wide variety of advanced defense programs. This technology heritage began more than two decades ago, and the company now provides a diverse radar product line and systems integration capability with more than 100 advanced radars deployed worldwide. STAR Dynamics delivers superior products, integrated systems, and responsive support services while continuing to design and develop next-generation radar and sensor technology through internal reinvestment in sustaining R&D. STAR Dynamics high performance products are supplied to domestic and foreign customers in commercial and military markets, and its team of dedicated employees will ensure the company's position as a leading supplier of state-of-the-art instrumentation radar systems.
For more information, visit: www.stardynamics.com or call (866) 790-2751.
Contact
DMG Productions, LLC
Vince Moss
(866) 496-4065

Contact