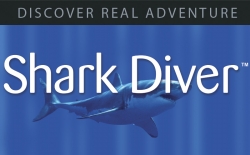 San Diego, CA, May 04, 2007 --(
PR.com
)-- ShermansTravel.com the web's most trusted source for editor-screened travel deals, reviews and destination advice has just announced Shark Diver, an international scuba adventure company based in California as one of the Top 10 Extreme Adventures of the year.
Shermans Travel website reaches and estimated 2.5 million avid travel readers each week.
"We're thrilled about it," said Patric Douglas CEO of Shark Diver. "The recognition of our company should be shared with the crews of the entire west coast Shark Diver Fleet: MV Horizon, MV Ocean Odyssey, MV Islander and MV Nautilus Explorer. These vessels and shark diving crews have the experience with dive operations and Great White sharks in Mexico and are setting the gold standard for the entire shark diving industry."
Since 2001 Shark Diver has been involved in shark diving operations to the famed Isla Guadalupe dive site. This year marks the expansion to four fleet vessels making Shark Diver the largest purveyor of White shark diving adventures in the USA. Guadalupe is a newly minted Bio-Sphere Reserve; it is home to a large seasonal aggregation of predatory Great White sharks.
The 2007 Top 10 Extreme Adventure list brings worldwide recognition of top adventure providers by category. "We'll continue our long term commitment to shark research at this dive site," says Douglas, "while at the same time providing divers from all over the planet with great vacation value and a safe yet exhilarating way to get close to the world's most impressive shark, the Great White."
About Shark Diver
Since 2001 Shark Diver has been leading trips and tours into the realm of the Great White shark and beyond. Shark Divers primary focus is Safe and Sane Shark Diving ™. Offering high tech cage systems and ensuring safe encounters with the world's top shark species. Shark Diver also provides cage systems to private yachts and film crews world wide. Shark Diver has recently completed another stunning season in the Bahamas Tiger Beach and continues unique shark operations in far flung reaches of the world like Honduras and the Sea of Cortez.
To join the crews of Shark Diver contact them at www.sharkdiver.com or 415.235.9410
###