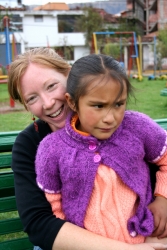 Seattle, WA, December 27, 2011 --(
PR.com
)-- Celeste Marion, Bothell High School (1998) and University of Washington graduate (2003) has dedicated the last 7 years of her life for children with special needs in the high Andes of Peru. She is the Co-Founder and Executive director Manos Unidas, a Peruvian non-profit founding the first private school for special education in Cusco. The school provides quality education and teacher training programs for children and young adults with developmental disabilities such as Down Syndrome, autism and cerebral palsy.
Marion landed in Peru as a free spirited backpacker and volunteer in 2004 after spending many years working with children with autism in Seattle, Wa. She was promptly hired as a program coordinator with a rural special education school near Cusco. After 2 years of desperately trying to make change and feeling defeated, she joined forces with Mercedes Delgado, a local Peruvian school teacher, and founded their own program with a different philosophy: "These children CAN learn."
Manos Unidas, is dedicated to improving the lives of children with disabilities by working towards inclusion within their own families, the schools and community. In 2009, Marion and Delgado opened "Camino Nuevo," the first private school for special education which receives children on a sliding scale tuition level, the criteria being dedicated parents. They have trained a staff of 22 local professionals working with more than 70 students in an overcrowded, rented building but the passion to thrive will not be extinguished.
The school started without capital in the living room of Delgado's house in Cusco in 2007 with borrowed furniture, thrift store toys and a passion to educate both children and the community. They started with 3 students and worked endlessly for 1 year and a half to establish a reputation of quality and successful education. Both Marion and Delgado worked several other jobs to support themselves while launching Manos Unidas. In 2009, Manos Unidas was approved with the Peruvian Ministry of Education for the first private school for special education opening their doors on March 1 with 35 children.
Not only did Marion work with Delgado to create the education center, she also has been the sole fundraiser for the project since 2008. She has straddled 2 worlds for the past 5 years, creating a strong team of professionals in Cusco as well as networking and fundraising in the U.S. Her roles have also included website design, marketing, forming the Board of Advisers, organizing the first international seminar for autism in Cusco (2010), managing the volunteer program, training teachers in autism education and Applied Behavior Analysis, organizing fundraising events in the Seattle and New York city, managing donor relations and, well, never stops.
The first benefit concert was held in Seattle in 2008 raising $3,000. Her fundraising efforts have excelled in the last year with new support from a small foundation in NY and forming new relationships with philanthropic supporters who believe in the future of Manos Unidas. Student tuition at Camino Nuevo only covers about 55% of the MU budget. Donors can choose to sponsor a student scholarship or support any of the many ongoing projects.
Future plans include launching the young adult vocational training program, the School Inclusion project with local public schools and building their own facilities. 25% of Manos Unidas students are abandoned and live in orphanages. Their vision includes creating independent communal living homes to secure a positive and productive future for these abandoned kids who will someday be adults.
The success of Manos Unidas relies strongly on supportive professionals, as well as her family, who have donated significant time and resources. Marion embarked on a U.S. fundraising tour in fall of 2010 visiting 8 cities in the U.S. to hold fundraising parties, visit professionals at universities (Boston College, NYU, San Diego State University, University of Washington, CUNY Queens) and advertise the volunteer program. Since MU is not a large enough organization to support such a trip, Celeste could be seen any given day on the streets or in craft markets selling Peruvian artisan work such as jewelry and alpaca hats. She used the public appearances to talk to people about her work. Many Seattleites may recognize her from the Fremont Sunday Market where she has been selling since 2005, showing up just near Christmas every year.
January 21, 2012, Manos Unidas will be hosting the Winter Photo Exhibition at the Q Café (3223 15th Ave ) in Seattle, WA. This fundraising event will exhibit 10 professional profile photos printed on canvas by Cusco photographer Vanessa Cuneo, a longtime friend of Manos Unidas. The 16x24 photos will be on display the entire month of January and silent auctioned the night of the event.
The event will be sponsored by the Children of Peru Foundation (NY) and will be hosted by Manos Unidas own Celeste Marion, and members of the new Board of Directors recently formed in the U.S. The night will be alive with dance, music and rhythms by Monica Rojas' El CAJON PROJECT as well as a surprise ending performance. Join Manos Unidas on this epic night to raise funds. The Children of Peru Foundation (NY) is offering a $1 to $1 match of up to $10,000 for the night of the event and every dollar donated to MU during the month of January.
###