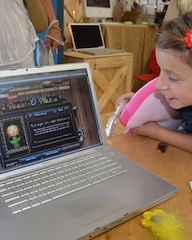 Miami, FL, February 01, 2012 --(
PR.com
)-- In the month of February, My Beast Friends partners with Learning Express Toys in Pinecrest, FL to introduce a locally hand crafted custom toy that engages children to be their best and face their fears. Customers will be given the opportunity to Adopt or Create a Beast Friend. If customers would like to Adopt-A-Beast, they will be able to choose from one of the six original My Beast Friends®: Crazy Daisy, Flamester, Happy Hav-z, Lazy Leo, Rob the Blob, or Tibu the Great. Each Beast Friend includes a short verse (poem) to illustrate their special power or fear; in order for children to relate and assist them overcoming their own fears.
Moreover, My Beast Friends® will bring their "pop-up" factory to Learning Express at 9529 S. Dixie Highway, Pinecrest, FL on Friday, February 3 and Saturday, February 4th, where children will have a one-of-a-kind opportunity to Create-A-Beast of their own. Customers can navigate through the website's "Beast-O-Matic" factory, and personalize their unique hand-crafted custom doll by selecting shape, color, eyes, mouth, name and special powers. Each Beast Friend comes with its official friendship certificate outlining its name, powers and pledge.
"In today's fast paced, highly technological world children do not have time for one of the most important fundamentals of life – Friendship! My Beast Friends® was created to provide parents a creative tool for handling difficulties faced at school, home or playgrounds," said Ysset Canto, Homegrown Miami Mom & Creator, My Beast Friends. "I strongly feel that if one inspires creativity and stimulates a child's imagination through play, like Beast Friends was built to do, we can help build self-esteem in a creative fashion."
Mybeastfriends®.com also offers an interactive tool on their website where customers are encouraged to revisit the online factory periodically to "Recharge" their Beast Friends' powers. The 'Recharge' button on the website is an animated feature created for parents to use as a tool for positive reinforcement. The purpose of the recharge button enables parents, caregivers or educators to increase interactivity with the child by making sure the child is overcoming its fear or reaching their goal.
About My Beast Friends:
My Beast Friends®, LCC is a Miami-Based online company that offers distinctive, collectible, custom made plush toys allowing children the opportunity to face their fears and empowers them to be their best. Mybeastfriends.com website allows customer to adopt or create a "Beast Friend" with special friendship powers that can be exclusively recharged online. The company is committed to stimulating children's imagination through play, and giving back to its community. My Beast Friends partners with local children-oriented toy stores, charities and programs that instill the importance of friendship and self-esteem. You can follow www.mybeastfriends.com on Facebook, Twitter and You Tube. Mybeastfriends® is a registered trademark. All Rights Reserved.
For Images log on to www.mybeastfriends.com or contact Daisy at dodb17@aol.com.
###