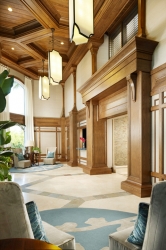 Naples, FL, February 14, 2012 --(
PR.com
)-- On February 9, Beasley & Henley Interior Design was awarded a Best in American Living Award (BALA). The prestigious national award, which acknowledges excellence in the residential building industry, was presented at the 2012 International Builders' Show (IBS) in Orlando, Florida. The interior design team, led by Design Principal Troy Beasley, won the BALA Gold Award for their work in the Interior Design, Interior Architecture, and Renovation of common areas of the multi-million dollar Seapoint Condominiums in Naples.
This is the firm's 3rd BALA Award.
Beasley & Henley's designs reflect a sophisticated, modern-beach ambiance in the Gulf Coast tower's common areas, which includes the main foyer, grand foyer, grand lobby, club room, bar, gallery, offices, pool, fitness room, and two guest suites. To create this theme, Beasley and his team created the interior space layout, architectural detailing, construction drawings, and specification of finishes and furnishings.
Beasley designed the interiors to be transitionally modern with a sophisticated Indonesian flair. Many of the high-end furnishings and fixtures were custom-made for the project. The colors are light and cool, with blues and soft sand playing a primary role. The transitional furnishings do not sacrifice comfort; artwork and accessories are contemporary and colorful.
Some of Beasley's selections for this 10,000 square foot space include limestone flooring with fossilized shell, slate, five-foot tall chandeliers, intricate modern woodworking details, stacked stone water feature, vibrant blue Azul del Mar granite, a glass wall, light fixtures of blown Italian glass in organic shapes, hardwood flooring has a driftwood tone and blue Venetian Plaster.
Furnishings include stylized club chairs, custom rugs, unique driftwood sculptures, event tables, bar top tables, and custom furnishings, all with a light, airy flair.
The final product – the completed common areas and guest rooms -- is an updated, high-style design with the ease and comfort of residents kept foremost in mind.
About BALA
The Best in American Living Awards spotlight the most creative and innovative builders, remodelers, designers, developers, land planners and interior designers in the nation. Every year, BALA winners redefine design excellence for the residential building industry.
For more information on Seapoint Condominiums, or to inquire about the designs of Beasley & Henley Interior Design, please call Stephanie at 407-629-7756, 239-774-1005 or email Stephanie@BeasleyandHenley.com.
###