Monsters Set Free to Run Wild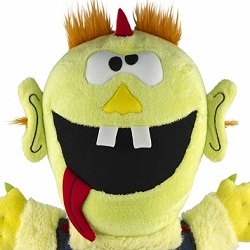 Centreville, VA, February 23, 2012 --(
PR.com
)--
www.goofygrinmonsters.com
- Un-batten the hatches and open your doors, these fun-loving monsters are only looking to play.
Goofy Grin Monsters have been set loose by the Z & Z Toy Corporation and are searching for children to play with. You can recognize them by their super soft fur, vibrant colors and unforgettable giant grin. If you come in contact with one of these monsters, do engage them, they respond best to the natural goofiness of children. The monsters love going on adventures and comply well with children's imaginative directions. They are known to get quite attached to their owners and never get tired of playing their games.
The Goofy Grin Monsters have also been seen sneaking into elementary schools across the country. They have achieved this unbelievable feat by implementing their ingenious plan of the
Goofy Grin Short Story Adventure Contest
. It is a free contest available to all elementary schools. The students volunteer to write about an adventure of the Goofy Grin Monsters. There are even extra points given for including themes like teamwork and the saving the environment. The four winners receive a free monster and all the stories are published on the monster's website.
The monsters were first seen in Centreville, VA, but are spreading like wildfire throughout the country. There is no need to call animal control, they do not respond kindly to these calls, just hide behind your children and let them handle it. When you see the magical grin grow on your children's faces, you know it is safe to come out. This might be a good time to finally be able to check for those pesky cavities as well.
Warning: Goofy Grin Monsters are designed to be a positive role in your children's development, helping to improve their creative, cognitive, social, and emotional well-being. If you desire your children to be mind-less zombies that just sit in front of the television and play computer games, then, Do Not let your children come in contact with any of the Goofy Grin Monsters.
###
Contact
Z & Z Toys Corp.
Zaid Mohammad
703-220-0153
www.goofygrinmonsters.com

Contact