Hawaii's "Akasha Soul Celebration: Core Rejuvenation" Spiritual Retreat Features Author and Filmmaker Carolyn Cobelo, April 26-29, 2012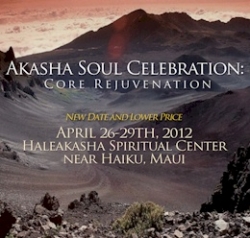 Haiku, HI, March 01, 2012 --(
PR.com
)-- Akasha Entertainment, LLC, announces the availability of new lower-priced ticket packages for The Akasha Soul Celebration: Core Rejuvenation, a unique weekend retreat with author and filmmaker Carolyn Cobelo, taking place April 26-29, 2012 in Haiku, Hawaii. This event offers an opportunity for participants to explore their connection to spirituality and to the Earth in a unique collective group ceremony. A free public event on April 26, 2012 has just been added, and daily ticket passes start at $95, and can be purchased online at
www.HawaiiSacredJourneys.com
.
The Akasha Soul Celebration will include group activities such as spiritual ceremonies conducted at Maui sacred sites, meditation and chanting, fire dancing, and volcano ceremonies. Author and spiritual teacher Carolyn Cobelo, facilitator of the ceremony, describes these activities as "vehicles to reach higher dimensional energy, to assist ourselves and the Earth in immediate transformation."
As the director of the award-winning documentary film "Sacred Space: Searching for the Source," and author of 1999's "The Power of Sacred Space: Exploring Ancient Ceremonial Sites," Cobelo is one of the world's foremost experts on the Earth's ceremonial sacred space. She is particularly impressed with Hawaii. So much so, that she recently completed her second documentary film in Hawaii,
Sacred Space: The Magical Land of Hawaii
. In January, Cobelo and her husband moved their metaphysical media company, Akasha Entertainment, LLC, to Haiku, Maui. "Hawaii has a certain sacred power and spiritual resonance that is much stronger than most other places around the world," she said.
Carolyn intends to offer Akasha Soul Celebration participants an intimate, personal experience of sacred space. "Ancient cultures built temples over cracks in the Earth's mantle. Due to shifts in our global civilizations, these places were abandoned and left dormant for thousands of years," Cobelo said. "The creators of these temples knew that at the right time, the energy and information of these places would be known to all who open their hearts and listen. I believe that time is now." She went on to say that it is of utmost importance that the sacred places around the world be protected and respected for the delicate healing treasures that they are.
Cobelo, with a Masters in Clinical Social Work, has transitioned over the years from practicing as a Gestalt and Transpersonal psychotherapist into a spiritual facilitator who leads people to sacred sites to "help individuals find their own inner intelligence and power," she said.
Cobelo has a 30-year history of producing events that blend metaphysics and entertainment, including two highly successful metaphysical film festivals in Santa Fe, NM and Carmel, CA. The film festivals featured such luminaries as actresses Shirley MacClaine and Lindsay Wagner, producer Stephen Simon and many other accomplished metaphysical film producers, directors and actors.
"People are hungry to find ways to facilitate their own direct experiences of spiritual power and wisdom," Cobelo said. "Many cultural institutions, which in the past have provided security, are breaking down so that we can give birth to new forms that honor the universal right to know the Divine. The Akasha Soul Celebration, Core Rejuvenation is oriented toward creating opportunities for people to discover their essential divine essence."
###
Contact
Akasha Entertainment
Michael Smith
303-679-1299
www.MetaphysicalFilm.com
Carolyn Cobelo can be reached directly at 505-690-1397 (cell).

Contact
Multimedia
Carolyn Cobelo teaches principles of sacred space and talks about her award-winning film "Sacred Space: Searching for the Source" with renowned author and radio host Dr. Bob Hieronimus of 21st Century Radio.