"The Wellness Code" Book Soars to #1 on Amazon in Two Categories; Life Coach, Celebrity Fitness Expert John Spencer Ellis Co-Wrote Book of Wellness Wisdom
In its first week, "The Wellness Code" was rated #1 in two health and wellness categories on Amazon. The book was co-written by John Spencer Ellis and offers health, nutrition and lifestyle advice.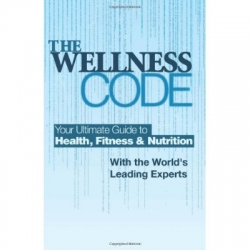 Rancho Santa Margarita, CA, April 19, 2012 --(
PR.com
)-- After just one week on the market, "The Wellness Code: Your Ultimate Guide to Health, Fitness and Nutrition" was ranked #1 in two key Amazon categories: Health, Fitness and Dieting: Injury Prevention and Health, Fitness and Dieting: Quick Workouts. Co-written by fitness and personal development guru John Spencer Ellis, the new book continues to garner positive reviews and ratings.
Available in both hard cover and kindle editions, "The Wellness Code" was compiled by some of the world's leading health and fitness experts, and it offers tips, tools and secrets to better health, fitness and wellness. Available through Amazon, the new book was recently published by CelebrityPress, a leading fitness and health book publishing company.
"We are thrilled that more and more people are finding and cracking 'The Wellness Code' in their lives, while taking control of their personal health, happiness and wellness," said Ellis, founder of John Spencer Ellis Enterprises, a personal development and fitness solutions company. "When you align your mind and your body, your goals and your reality, you can truly achieve anything and increase your overall happiness and satisfaction dramatically. That's what this new book is all about."
Topics in the book include: The Big Picture of Wellness: Actions and Mindset; Mastering Your Body; The Art of Breathing; How to be Successful and Still Have a Life; Facing Life's Challenges – A Holistic Perspective and many more. In addition to "The Wellness Code," Ellis has authored several books on health and wellness, business strategies for success in the fitness industry and personal development.
In "The Wellness Code," Ellis defines wellness as "the collective rituals, behaviors, practices and lifestyle traits that lead to better health, improved sleep, faster recovery, increased happiness and better social experiences," and then offers a variety of tips for achieving wellness in these areas.
About John Spencer Ellis Enterprises and "The Wellness Code"
John Spencer Ellis Enterprises is a solutions provider for fitness and coaching professionals around the world, providing education, turn-key business programs, coaching and resources for new and advanced fitness and coaching professionals. For more information about John Spencer Ellis Enterprises or to purchase "The Wellness Code," please visit
http://www.amazon.com/The-Wellness-Code-Ultimate-Nutrition/dp/0983947058/ref=sr_1_1?ie=UTF8&qid=1334765245&sr=8-1#_
Contact
John Spencer Ellis Fitness & Personal Development
John Spencer Ellis
949-589-9166
http://www.johnspencerellis.com

Contact