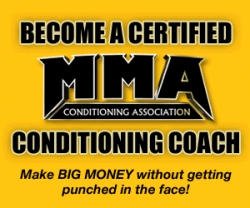 Rancho Santa Margarita, CA, March 15, 2012 --(
PR.com
)-- The ultimate in mixed martial arts (MMA) training, a brand-new website at http://www.mma-mma.info/ is designed to help MMA fans, personal trainers and fitness pros pursue the latest MMA coaching training. Provided by the Mixed Martial Arts Conditioning Association, the Certified Mixed Martial Arts Conditioning Coach (CMMACC) training combines both practical MMA skills training and effective business planning.
In particular, the online training is designed for current MMA coaches looking to enhance their skills and make more money, fitness pros interested in adding a high-level client workout, martial arts school owners seeking to expand and offer MMA as well as MMA fighters who are also interested in more training and coaching knowledge. The Certified MMA Conditioning Coach program incorporates combat drills, plyometrics, mental training, TRX, Kettlebells, aerobic and anaerobic conditioning, sports nutrition, flexibility and business skills training.
"This training is really an effective one-two punch, with all of the latest MMA drills as well as targeted tips and advice for launching and growing a successful mixed martial arts business," said John Spencer Ellis, founder of the Mixed Martial Arts Conditioning Association and John Spencer Ellis Enterprises, a leading national fitness and personal development solutions company. "We like to think of it as the ultimate MMA career where you don't get punched in the face, not to mention that you learn how to get started in an incredible business."
The current Ultimate Fighting Championship (UFC) bantamweight champion, Dominick Cruz, is trained by Doug Balzarini, who used the principles from his Certified Mixed Martial Arts Conditioning Coach training to help Cruz train, fight and win.
The 70-hour online training includes video demonstrations and lectures, a digital manual, test prep and self-paced learning for those interested in developing the business and athletic skills required to coach MMA.
About MMACA
The Mixed Martial Arts Conditioning Association (MMACA) was developed to bridge the gap between sports conditioning science, MMA training methods and direct application from the ring, octagon, mat or cage. The MMA Conditioning Association is the MMA certification division of the National Exercise & Sports Trainers Association (NESTA), a leader in innovative solutions for fitness, nutrition and wellness professionals, as well as club owners since 1992. Founded by John Spencer Ellis, NESTA now has more than 55,000 members in 55 countries, and it is one of the largest fitness associations in the world, and the fastest growing association of its kind in the United States. The MMACA and its staff of educators, exercise physiologists, dietitians, biomechanists, strength coaches, sports psychologists, physical therapists, massage therapists, kinesiologists and business professionals have joined with the world's top boxers, wrestlers, BJJ fighters, Muay Thai fighters, American kickboxers, MMA fighters and coaches to develop a comprehensive MMA conditioning program. For more information, please visit
http://www.mma-mma.info/
.