New Book on Horizon About Premarital Counseling for Gay Couples
A premarital guide of case studies illustrating real problems and creative solutions for the LGBT community published by ASD Publishing.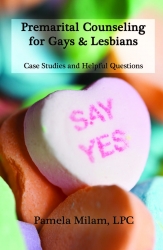 Hawthorne, NJ, March 12, 2012 --(
PR.com
)-- As society changes and politics follow, there will be more opportunities for same-sex marriages, unions, and legal partnerships. As a result, Gay Marriage and Premarital Counseling for Gay Couples is a timely topic.
In her book, Premarital Counseling for Gays & Lesbians, (ISBN: 978-0-9836049-5-2) therapist Pamela Milam offers practical advice for couples entering matrimony. She highlights the importance of asking questions, exploring viewpoints, and making interesting discoveries prior to getting married. The book covers common problems faced by all couples as well as issues which are unique to gay and lesbian couples.
Milam says, "Marriage and lifelong commitment are meaningful, and gay couples know that. There is a growing need for premarital tools, advice, and information customized for people who are in same-sex relationships."
Milam has worked in private practice as a counselor for twelve years and in the counseling field for more than two decades. She belongs to the American Counseling Association, the Association for Gay, Lesbian, Bisexual, and Transgender Issues in Counseling, The International Association of Marriage and Family Counselors, and the Association for Creativity in Counseling, as well as the AHC, CSJ, and ASERVIC. She writes articles offering divorce and relationship advice, and is a certified life coach.
In her new book published by ASD Publishing, she uses her knowledge of interpersonal relationships and experience in the counseling office to create a launch-pad for discussion between couples who are preparing to marry. Filled with colorful details and vivid accounts of real life sessions, the book offers composite case studies illustrating real problems and creative solutions to assist couples in learning more about their mates. Milam's book will launch on March 15 and will be available at online outlets as well as independent bookstores. It will also be offered by ASD at the 4th annual Rainbow Book Fair in New York City on Saturday, March 24 at the GLBT Center. New York passed a gay marriage bill last year and Milam believes her book would be beneficial to many couples in New York as well as across the country.
About ASD Publishing
ASD Publishing is an independent book publisher based in New Jersey specializing in thought-provoking literary fiction, memoir, self-help non-fiction, and written word that champions personal growth. www.asdpublishing.com.
###
Contact
ASD Publishing
Greg Goldston
973-280-0145
www.asdpublishing.com

Contact