CNN's Dr. Sanjay Gupta Speaks with PR.com About His New Novel Monday Mornings & Imperfect Medicine
CNN Chief Medical Correspondent, Dr. Sanjay Gupta, speaks candidly with PR.com Senior Editor, Allison Kugel, about writing his first novel and how surgeons handle medical mistakes.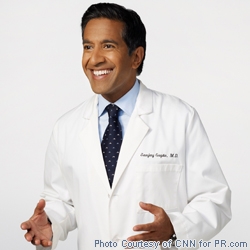 New York, NY, March 12, 2012 --(
PR.com
)-- In a revealing interview with PR.com, CNN Chief Medical Correspondent,
Dr. Sanjay Gupta
, talks openly about writing his first novel, saving lives in Iraq, how doctors handle medical errors, spirituality, Obamacare, and even the music he listens to while in the OR.
Here are excerpts from Dr. Sanjay Gupta's interview with PR.com:
Describing how doctors learn through trial and error:
"It's unsettling to think about it and when people half joke that they still call medicine the 'practice of medicine,' there is some real meaning behind that. As much as you can learn from textbooks and from didactic lectures, the fact of the matter is that the big advances in medicine and science do come about with this sort of trial and error."
His thoughts on whether human beings have a soul:
"I guess I've always believed people have a soul, and that's not something that I could subjectively prove. What's the old saying that scientists use? 'In God we trust. Everyone else bring data.' (Laughs). There's no data on this one. But to me it's inconceivable that there isn't more than a bunch of carbon that comprises us as human beings. Exactly what to call the other thing, whether it's a soul or something else, what it's made of or where it goes, I don't know."
His go-to music playlist while performing brain surgery:
"This is literally from the last operation I did on Monday: 'Finger Eleven' by Paralyzer; Weezer; 'Just Breathe' by Eddie Vedder; 'You Are A Tourist' by Death Cab for Cutie; 'Fidelity' by Regina Spektor; 'The Only Living Boy In New York' by Paul Simon; 'Hold On Hope' by Guided By Voices; 'Painkiller' by Turin Brakes; 'Fix You' by Coldplay; and I got 'Moving Along' by All American Rejects. And then I actually got back to Paralyzer which means the operation took almost two hours (laughs). I can tell how long my operation takes if I hear the same song again."
His thoughts on Obamacare:
"People always ask what is the biggest healthcare issue facing America. Clearly it's that not enough people have access to some of the great developments we have made. Whatever the solution ends up being, right now there isn't any other concrete plan being put forward. The sort of nationalized affordable care act is a good start. I think it's expensive. I think costs are going to continue to go up, at least in the short term. But of all the things you want to spend your money on, as a country, this isn't a bad one. This is a pretty good place to be putting some of your dollars, I think. And I say that as a citizen more so than as a doctor."
On choosing the name "Chelsea General" instead of "Monday Mornings" for the television adaptation of his novel, "Monday Mornings":
"I liked the title 'Monday Mornings.' The reason I picked 'Monday Mornings' (referring to the title of his novel) was because when you think about Monday morning quarterbacking you think about people reflecting and trying to do a little retrospective, in this case with some particular events, but it could be with their own lives. You also have an aspirational quality because Monday morning is a beginning, not an end. And it played on the words with M & M being both for Morbidity and Mortality and 'Monday Mornings.' But here is the funny reality of this sort of thing. It's confusing to have a show called 'Monday Mornings' on a Thursday night."
To read the full PR.com interview with
Dr. Sanjay Gupta
, go to:
http://www.pr.com/article/1203
About PR.com
PR.com
is a unique website where companies can promote literally everything about their business in a one stop shop business marketplace. A cross between a public relations and advertising entity, PR.com is a directory of businesses, products and services, a
press release
distribution service, job search website, and online publication of
articles, reviews and celebrity interviews
. With a full company profile, each business listed on PR.com has a powerful means by which to generate quality leads as well as gain worldwide and local exposure for all of their products, services and other business information. For more information, go to
www.PR.com
.
Contact
PR.com
516-520-0000
http://www.pr.com

Contact