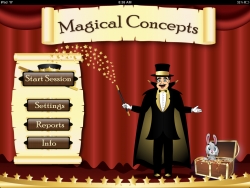 Burbank, CA, March 20, 2012 --(
PR.com
)-- Virtual Speech Center Inc., the provider of mobile applications and web-based software for online speech therapy (telepractice), announced today the release of Magical Concepts, an iPhone and iPad application available for download on Apple's iTunes App store.
Magical Concepts was created by a certified speech-language pathologist who wanted to make "drilling" with flashcards fun and motivating. This engaging, colorful app includes over 2000 photos accompanied by audio instructions. Children are welcomed by Mago the Magician, who encourages them to work hard. Children earn stars for each correct response, and when they accumulate enough stars, they are rewarded with a magic show.
Concepts are important building blocks for early academics, and research shows that understanding of basic concepts is critical for school success and high-level thinking (Klix, 1983).
Children are required to master the foundations of basic concepts to learn the fundamentals of academic subject areas. For example, the child must understand the concept of quantity (e.g., more, less, equal, all) to do mathematical computations and must know basic reading concepts (e.g., reading left to right, top to bottom, beginning, end) to learn how to read and write (Busch, 1980).
Many concepts are used in daily classroom instructions by teachers—e.g., temporal direction: "Before you start writing, read the first paragraph on page 13." Children who do not master these basic concepts will have difficulty following classroom instructions (Vernon, 1962).
Children learn concepts by listening to adults, reading, and following commands.
There are four major types of concepts. These are spatial (location), temporal (time), quantity (number), quality (description), and social-emotional (feelings).
Magical Concepts includes over 60 concepts that are alphabetically organized.
Magical Concepts is easy to use and allows you to:
- Enter multiple students
- Select multiple concepts
- Present cards in order or randomly
- Change settings
- Select auto-scoring
- Select alternate counts for multiple students
- Enable or disable rewards: the stars and the magic show
- Track correct and incorrect responses
- Email results at the end of the game
To install the Magical Concepts application, please visit the Apple application store page below:
http://itunes.apple.com/us/app/magical-concepts/id510069130
To learn more about this application, please visit www.virtualspeechcenter.com website:
http://www.virtualspeechcenter.com/Resources/magical_concepts_app.aspx
References
Busch, R. A. (1980). Predicting first-grade reading achievement. Council for Learning
Disabilities, 3, 33–48.
Klix, F. (1983). An evolutionary approach to cognitive processes and creativity in human
being. Methods of Heuristic, 9, 19–36.
Vernon, P. E. (1962). The determinants of reading comprehension. Educational and
Psychological Measurement, 22, 269–278.