The All-American Preschool Hit Monkey Monkey Music is Now Airing on the American Forces Network
Monkey Monkey Music now airing on over 100 PBS member stations is proudly airing on The American Forces Network. A seven year old child who stars in the videos has a father who, ironically, was on civil deployment in Iraq when the videos were made. The American Forces Network considers Monkey Monkey Music a key element in quality programming for young children.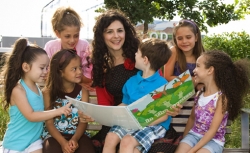 New York, NY, March 28, 2012 --(
PR.com
)-- As seen on NJTV, KCET and on more than 100 Other Public Television Stations Nationwide.
The All-American Preschool Hit Monkey Monkey Music is Now Airing on The American Forces Network.
NYC-based producer, Meredith LeVande, is thrilled to announce that twelve Monkey Monkey Music videos are currently airing multiple times daily as interstitials on The American Forces Network. The American Forces Network which serves nearly one million military families overseas in over 175 countries is proud to air Monkey Monkey Music Videos. Enthused director of AFN, Larry Marotta says: "We are so delighted to have Meredith's Monkey Monkey Music videos to enhance the appeal, energy and substance of our pre-school children's block on AFN Family. There's no doubt that children growing up on US military bases worldwide are enjoying while they learn and Meredith's magic is a key element is helping them grow and develop."
Seven year old Madison Beehner who stars in several Monkey Monkey Music videos is a child who knows firsthand how difficult it is to have a father on civilian deployment in Iraq. While Madison's father was serving as a Department of Defense Air Force Contractor for General Dynamics, little Madison spent two summers starring in Monkey Monkey Music videos that will now touch the lives of over 1 million families whose parents make daily sacrifices for our country. When Madison's father returned from Iraq, "adjusting" to her father's presence as an authority figure was difficult. The Beehners' story was so compelling that Stouffer's produced webisodes documenting how a family can use dinnertime to establish a routine and reacquaint themselves with one another. Mr. Beehner, personally knowing the struggles that families involved in the military endure, was quite proud that his child would be able to bring happiness to other children's families at military bases.
Meredith LeVande says: "It is such a huge honor to share my videos with the men, women and children who sacrifice their lives and comforts for our freedom every day. Without their commitment, the work I make for children would not be possible. To collaborate so closely with the Beehners, who I knew firsthand grappled with Madison's daddy's absence from being in Iraq, makes me even more prideful to share my work with these children. To think that Madison Beehner found joy in making these videos and now is sharing this joy with other children who experience the struggles of military life, makes me feel an even greater sense of patriotism."
Since nationally distributed in 2011, Monkey Monkey Music videos are currently airing in over 70 public television markets on over 100 PBS member stations in between PBS Kids shows. In addition, Monkey Monkey Music videos are a featured offering on Hawaiian Airlines since December 2011.
Notes Julia Samersova Adler of Planet Awesome Kid and star of the E! Television Series, Scouted, "There is something so genuine about Meredith, her music, and her connection to children that my own child immediately sensed it. The multicultural cast of kids, the interactions between Meredith and the cast, and the non-pandering vibe are all really in synch, and the songs are so catchy!"
Bob Petts, program development manager for the National Educational Telecommunications Association, which distributes Monkey Monkey Music videos to public television stations, was struck by the singularity of Meredith's work. "We get others along these lines and turn many of them down for whatever reason. They didn't do it for us. This one did," Petts declared.
The Department of Defense operates AFN American Forces Network®. AFN, a worldwide radio and television broadcast network, serves nearly one million American service men and women, Department of Defense civilians and their families overseas, stationed at bases in 175 countries as well as 140 U.S. Navy ships at sea. AFN broadcasts the most popular American radio and television programs from all the major networks. AFN is a service of the American Forces Radio and Television Service (AFRTS), a field office of the Defense Media Activity (DMA). For more information about AFN's programming, please visit www.myafn.net.
"To see this ball of energy perform at the Kearny Public Library is a testament to the strength of the human spirit. ... That joyful spirit comes through clearly in her performances, say public television executives, who predict a bright future for the singer-songwriter." -The Star-Ledger
"Meredith LeVande's face could become a familiar one to fans of Sesame Street, Curious George and other children's shows."- Rochester Democrat and Chronicle
"Monkey Monkey Music just may be the best addition to Public Broadcasting since Mr. Rogers!" - Karen Noonan, Program Manager, WDSC-TV
For more information about Meredith LeVande or to schedule an interview, please contact Meredith@monkeymonkeymusic.com or call (212) 673-6472.
Contact
Monkey Monkey Music
Meredith LeVande
212-673-6472
www.monkeymonkeymusic.com

Contact