Jersey-Based Alternative Rock Band "The Better World" Along for "The Ride"
V1 Entertainment Films Also Lining Up Sponsors and Product Placements Based on Musical Tie-Ins with its Professional Motorsports-Themed TV Series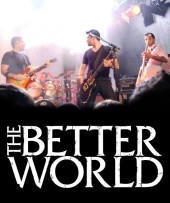 Mooresville, NC, April 10, 2012 --(
PR.com
)-- New Jersey-based alternative rock band The Better World has been tapped by V1 Entertainment Films to pen original songs for the pilot of "The Ride," a new professional motorsports-themed television series. The pilot will be directed by acclaimed film and television actor/director Giancarlo Esposito of AMC's Emmy-winning "Breaking Bad" and is being targeted as a Spring 2013 network replacement series.
"Not only is the music important to propelling the drama of 'The Ride', we discovered that creating a musical 'soundscape' is integral to attracting potential sponsors, to help them visualize how their products and brands can make both practical and emotional tie-ins with the audience," said V1 Entertainment Films CEO Aspen Hughes. "'The Ride' is a character-driven story about the exploits of a tight-knit group of drivers from different worlds set in the Lake Norman area of North Carolina, north of Charlotte – and, as in professional motorsports itself, the advertising sponsors are stars of the show and must be considered, too."
The selection of The Better World climaxed a year-long search for musicians who could accurately capture the nuances and spirit of professional motorsports behind the scenes as well as on and off the track. The Better World, known for its energetic live shows and unforgettable hooks, beat out hundreds of other performers from around the country. "The Better World proved they could reflect the soul of Race City USA yet still creatively and seamlessly make room for the sponsors to express themselves," noted Hughes when making the announcement, adding that ientertainmentblogs.com called the band, "a trio of undeniably talented musicians, who know how to take that talent and weave it into music that can reach out and grab even the unlikeliest fan; it's hard to find such strong songwriting in music now."
The Better World is currently touring in support of their second album, "Broken Memories," produced by Grammy award-winner Jason Corsaro (Soundgarden, Buckcherry) and mastered by Howie Weinberg (Nirvana, U2, Creed). They are no strangers to working with film and television producers: "It's Alright" – a cut on "Broken Memories" – is featured in the gritty 2011 film, "The Hit List," starring Cuba Gooding Jr., Cole Hauser and Jonathan LaPaglia. In addition to penning tunes for "The Ride," the group has begun writing new material for their next E.P.
With the selection of its songwriters finally accomplished, Hughes has turned to lining up product sponsors for "The Ride." "There are some very intriguing scenes, not only for an automobile manufacturer but for a tool company, a fast-food chain, a mobile phone provider, a record label, even a jewelry company. The product sponsorship opportunities are diverse and will give the right partners a terrific return on their investment."
Hughes added that product sponsors who join "The Ride" will be working directly with all key decision-makers on every aspect of production, right from the start. He has hand-picked a well-connected team of racing consultants headed by top-ranked female race car owner/driver Jennifer Jo Cobb of the #10 Driven team (who also will play a recurring role as herself) to be on board from script development to final edits to soundtrack to promotion. V1 Entertainment Films' personal and professional relationships with professional motorsports, drivers, teams, tracks and off-track locations assure the kind of authenticity that both sponsors and viewers demand.
For more information on "The Ride," please visit www.V1EntertainmentFilms.com.
About V1 Entertainment Films
V1 Entertainment Films is a worldwide film fund actively engaged in bringing unique, compelling stories to movie theatres and television. The company is committed to discovering properties propelled by compelling characters and original situations that demand to be projected and offer the potential for profit. In an industry that has earned a reputation for sometimes questionable business practices, V1 Entertainment Films offers unprecedented transparency. Because they offer personal service at all levels of the organization, they safeguard that all projects are conducted with complete clarity and integrity. For more information, visit www.V1EntertainmentFilms.com
About The Better World
Hailing from Bergen County, New Jersey, The Better World is a hard-rocking, heart-stirring band that has sold out top New York City venues and plays to packed houses at well-known area hot spots such as The Bitter End, Highline Ballroom and Maxwell's. Following up on their self-titled debut album, The Better World teamed up with Grammy award-winner Jason Corsaro (Soundgarden, Buckcherry) to record "Broken Memories." Mastered by Howie Weinberg (Nirvana, U2, Creed), "Broken Memories" captures the intensity of the Foo Fighters and the heart-felt melodies of 3 Doors Down and Lifehouse to form a powerful, hard-hitting album of shout-out-loud rock songs. In 2009, The Better World won the "Next Big Thing" contest on AlternativeAddiction.com and was named one of their "Top 20 Unsigned Bands of 2009." Nationally, The Better World placed third out of 2,000 bands in the Taylor Guitar Test-Drive competition and also placed third among 200 bands in New York City's Meany Fest. Tracks can be purchased on iTunes, Amazon, CDbaby.com, and other online music vendors. Visit http://www.myspace.com/thebetterworld for more information and follow @The Better World on twitter.
Contact
V1 Entertainment Films
Maryellen Nugent Lee
917-825-0557
www.v1entertainmentfilms.com

Contact