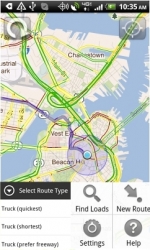 Boston, MA, April 11, 2012 --(
PR.com
)-- Recognizing the specialized navigation needs of truck drivers, TeleType pioneered the use of portable GPS for truck navigation beginning in 2008. Now the company has released SmartTruckRoute, an Android application allowing commercial truckers to use the built-in GPS of the phone or tablet to create truck friendly routes with the added benefits of live map updates and live traffic. The software takes into account commercial truck restrictions. SmartTruckRoute helps drivers avoid costly tickets and provides additional safety.
According to Marleen Winer, V.P. Business Development for TeleType, "The Android app gives truck drivers peace of mind for about 10 cents a day, regardless of what other GPS they may be using as it provides an inexpensive back up system for truck navigation."
SmartTruckRoute Key Features and Benefits:
• Navigate big rigs with the convenience of using smartphones.
• Routing considerations include low bridge heights and clearances, load limits, one-way road designations, sharp turns, and allowances.
• Offers the latest truck specific maps and routes.
• Provides turn-by-turn instructions.
• Dynamic routing based on size and weight of vehicle, user definable truck specifications.
• Supports Hazmat restrictions by class to avoid tunnels and other restricted areas as appropriate.
• Displays surrounding traffic and aerial views at no additional charge.
• Use the phone's built-in speaker to speak the destination address for safe and convenient hands free operation.
• Navigation does not interrupt other functions of the phone therefore the driver can talk simultaneously while navigating.
TeleType is also planning to release the app for the iPhone and iPad. Future add-on modules for Android and iOS will allow access to load board information to provide location based loads availability along a route or in a specific area simplifying the process of locating available freight based on location in combination with truck friendly routing.
For further information contact TeleType Company at 1-800-717-4478, 1-617-542-6220 or visit
TeleType webstore
. SmartTruckRoute is available on
Google Play
(formerly known as the Android Marketplace).
Cost: Navigation $19.95/3 months, $45/1 year, Load Board Access, pricing not yet available.
Established in 1981, TeleType has emerged to become a leader in the field of Global Positioning Systems and was the first company to offer a portable GPS solution for commercial truck drivers. TeleType specializes in software systems integration and innovative products for a variety of industries. Products range from the user friendly GPS navigation systems to advanced developer tools such as Software Developer Kits (SDK). This latest program innovation is yet another example of the pioneering advancements that has—and will continue to— set TeleType apart in the field of GPS technologies.