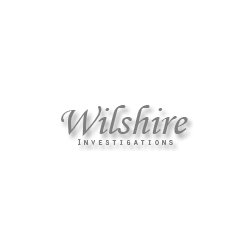 Los Angeles, CA, June 05, 2007 --(
PR.com
)-- Los Angeles Private Investigators have long modeled their businesses and referred their difficult cases to Wilshire Investigations. They have kept their policy of "no press" for over ten years due to the high profile client list that has mandated their reputation of complete confidentiality, discretion, and premium service.
Wilshire Investigations is headquartered in Los Angeles, California and provides services worldwide. They employ former Police Detectives, Federal Agents, and experts in every discipline of the Investigations that their clients require. A special emphasis is put on providing everyday "Mothers and Fathers" to "Attorneys to the Stars" the best of what's available. They utilize the latest technology; the areas best Investigators, and go the extra mile for every client regardless of the client's income or social status.
You won't find Wilshire Investigations involved in newsworthy Criminal Defense cases like the on-going Phil Spector trial or the OJ Simpson type trials of the past. They get behind what they do and are not simply guns for hire. "We're not going to help you get acquitted just because you're rich and famous" says Owner and Senior Investigator Chris Woodson who started his career as a street cop and Detective in the gang lands of St. Louis before moving west. "Not everyone in Hollywood are creeps; there are some who just do good work and their status makes them targets. That's where we come in."
Wilshire Investigations has recently doubled its Los Angeles staff and is now accepting new Clients. Their main focus has been to help people manage difficult situations with an emphasis on helping before unmanageable situations occur. Some examples Woodson alluded to were the recent issues where the need for attorneys and managers of young female singers and actresses should have involved professionals before the Paparazzi got to them. "I have never found a successful manager agree with "Any publicity is good publicity"; bald and drunk doesn't help anyone in business." However, they don't want you to think that their services are only available to residents of Malibu either. The majority of their investigations focus on helping to determine and prove infidelity through what they call advanced surveillance services. Along with their proprietary Investigative techniques and experienced Investigators they can also help to determine a parent's suitability in child custody matters.
Surveillance in Los Angeles is a difficult process, however, the numerous years of following unfit parents on Southern California Highways has lead them to develop plans and employ only the best investigators. Because they hire only the best, most experienced Investigators, losing someone in the process of surveillance is highly unlikely and Investigators are almost never detected. Not alerting the subject being followed to the presence of an Investigator is extremely important. This allows situations where Infidelity and unfit behavior are involved; to benefit from the involvement of a good Private Investigator and not to have the situation worsened.
1-888-256-3038 or
http://www.wilshireinvestigations.com
###