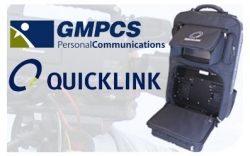 Pompano Beach, FL, April 12, 2012 --(
PR.com
)-- GMPCS Personal Communications, Inc. (
GMPCS
) has entered into a strategic partnership with Quicklink Video Distribution Services Ltd (
Quicklink
) for the distribution of Quicklink video products. GMPCS is pleased to offer the complete Quicklink video distribution product line, fully integrated with GMPCS's suite of mobile satellite services, available on the Inmarsat-BGAN and VSAT-IP platforms. By installing the Quicklink Live streaming and store-&-forward software onto a laptop or using Quicklink advanced SD/HD hardware encoders, embedded journalists and other organizations using GMPCS's services can now broadcast live or file-based video transmissions via
mobile satellite terminals
, cellular or terrestrial networks.
"As we have seen last year during Arab Spring, broadcasters are requiring true mobility for streaming live video as well as highly reliable Internet access from remote regions," said Tim Young, GMPCS's Vice President of Business Development. "Quicklink products allow one person to broadcast live video and audio from nearly anywhere in the world carrying nothing more than a backpack with a BGAN and laptop, or even simply an iPhone."
Via the GMPCS and Quicklink partnership, clients have "one-stop-shopping" for the video software and hardware products required for this type of laptop-news-gathering as well as satellite terminals and airtime service. Quicklink is a world leader in this niche, offering best-in-class solutions for achieving superb video and audio quality even from slow internet connections. Quicklink's new remote mobile, live streaming "Merlin" backpack encoder and the "QMM" Media Manager designed for channeling multiple live streams to multiple simultaneous play-outs in the cloud and via SDI, are the latest products to be exhibited at this year's NAB2012 show in Las Vegas.
Pete Watling, Quicklink's Head of Americas Sales, added, "We are excited to partner with GMPCS and its Network Innovations' Group affiliates to reach further into North America and other regions and markets. With their broad portfolio of satellite services and knowledgeable staff, we feel our mutual and prospective clients will be served even better than ever."
Please visit us at NAB: GMPCS - SU-5002 and Quicklink - SU-10009.
About GMPCS
GMPCS, headquartered in southeast Florida, is a leading global satellite communications provider offering total communications solutions to customers including news gathering organizations, emergency response organizations, yacht owners, workboat and fishing fleets, state and federal government organizations, energy exploration and production companies, enterprise businesses, airlines, and more. www.GMPCS-US.com
GMPCS' parent company, Network Innovations Inc., is based in Calgary, Alberta, Canada. Network Innovations specializes in the service and distribution of turn-key satellite communications solutions, including equipment, system integration, and airtime, as well as the development of unique emergency response, oil-field, and defense-related services. www.NetworkINV.com
About Quicklink
Based in Bristol (UK), Quicklink Video Distribution Services Ltd is the leading global provider for cost effective, high quality broadcast solutions in the fields of news, sport, entertainment and corporate media. Our solutions offer the best in class for achieving superb video and audio quality even from slow internet connections. Optimization of available bandwidth means that outstanding results can be achieved from a variety of connections such as WiFi or 3.5G/4G networks. Quicklink offers a variety of high quality but low cost Live and Store & Forward solutions from mobile phones, laptops, hardware encoders, mobile backpacks and third party encoders to video management playout systems, multiple SDI and fully managed cloud based services. www.Quicklink.tv