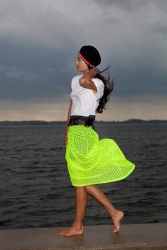 Miami, FL, April 15, 2012 --(
PR.com
)-- Pitusa is a boho-chic, eco-friendly women's fashion line, based in Miami, Florida. It draws on cultural- fusion designs and peace themes.
The Inca-fusion collection, evolving since 2010, is pushing the fashion market forward into new boundaries. It blends high quality and comfort within a globalized cross-cultural frame. Blueprints like the Inca Abaya, Peace Tank - with the Salaam-Shalom motto for peace in the Middle East - the eco Trackies and other garments are quickly going viral.
Pitusa's line features alpaca fine hair and Pima cotton, two of Peru's textile gems, as well as recycled plastic bottles. "With the eco trackies made of recycling, you can cut by half the carbon footprint of your sportswear," said Pitusa's founder, Clara Lago.
At presenting the Collection in Europe, Clara added: "We are reaching out to boho chic fashionistas worldwide by slashing shipping costs and offering free shipping for orders of US$200 through our internet store. We aim at being present from Australia to France, from Japan to Singapore, from Finland to South Africa, and from Alaska to the Land of Fire." Over the last three weeks Pitusa has added as clients the boutiques: Kikoy in Sao Paulo, Brazil; Sabine in Saudi Arabia, Cream in Lebanon, Allamanda in Saint Tropez , France; and Eye of the Needle in Palm Beach and Nantucket, USA.
Clara (25), an American of English-Spanish parents, who graduated from University in International Relations in 2010, explained how she embarked on the fashion business: "On the day I stepped out of University, I thought of looking for a job in fashion. One month later, l realized that creating jobs rather than my looking for one is the type of attitude that will pull us out of the crisis...I always had strong inclination for fashion and saw a niche for colorful, comfortable, and affordable clothing. So, I started Pitusa."
The Summer Collection 2012 includes new creations such as the Long backless dress, Monroe dress , Polka dotted hot pants, Romper, Neon maxi skirt, Inca kimono, Mini backless dress, Kaftan w/ bollitas and Inca bikini, among other designs. Meanwhile, the Inca Abaya and mini-skirt and the Peace Tank continue to be must-wears actively sought for. You can glace at the Summer Collection at http://goo.gl/rE91y
In less than two years of operations, Pitusa already sells in twenty-two countries, directly to individual purchasers by internet store (http://store.pitusa.co.uk/) and at retail, though twenty nine independent boutiques located in the US, Caribbean , Latin America, Europe and the Middle East. (http://www.pitusa.co.uk/findme.html)
Clara Lago's advice to peers with entrepreneurial drive: "Do not waste time with banks; you may have business talent and be already running at a profit, but all banks are interested in is whether you want a mortgage and can show two years of income as an employee; that mortgage they can unload to Fannie Mae (i.e. the taxpayer) while your business, no matter how promising, would stay in their books. As for the Federal Government's Small Business Administration, enter its website and you will find yourself at the gate of Kafka's Castle. Instead, try the shortcut: raise funds from friends and family and microcredit institutions."
With a smile on her face, Lago added, "Still fresh in my mind is that banker at one of the US top three banks telling me that I will get nowhere with the bank…the irony was the huge poster behind his desk reading we support small business. I laughed and asked him whether I could take a picture."
Become a Facebook friend of Pitusa at:
http://www.facebook.com/#!/PitusaUK
Contact
Press: press@pitusa.co.uk
Sales: sales@pitusa.co.uk
General Inquiries: pitusa@pitusa.co.uk