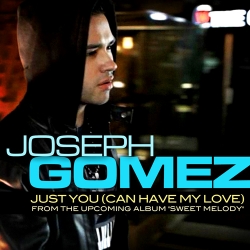 Toronto, Canada, April 18, 2012 --(
PR.com
)-- Joseph Gomez Restrepo is a Colombian-Canadian pop-R&B singer/song-writer. Born on April 23, 1985 in Medellin, Colombia and now a Canadian Citizen, Joseph moved to Canada at the age of 16. His dream is now coming true as he releases his first single and music video titled "Just You (Can Have My Love)".
Joe was named by his father after Joseph Haydn (March 31, 1732-May 31, 1809). Joseph Hayden was an Austrian composer who was one of the most important, prolific and prominent composers of the classical music period. From an early age, Joseph was fascinated with music. He loved catchy melodies and verses in songs and developed a passion for singing and composing songs. At age 12, Joseph went to Brandon, Florida where he attended school for 6 months with the sole purpose of learning the English language. He stayed with family members. He then traveled to San Dimas, California for another 3 months prior to returning back to his homeland of Colombia.
At the age of 16, he moved to Peterborough, Ontario with his brother, leaving his family behind and he sought and was granted political asylum. Now Joseph was truly far away from his family and life, the way he knew it, began to change dramatically. He then felt an overwhelming calling for music and turned to his passion for singing and song writing. He began the adventure into the writing process full force. He graduated from Saint Peters Secondary School. He decided to find a full time job and work with producers and engineers to start developing his career. Joe quickly realized he was up against the odds and a deep economic struggle that would be more difficult than he expected.
His family was finally able to reunite in Peterborough, ON on September 28th of 2008 after 7 years of being apart. It was one of the happiest moments in his life. Now with his family back in the picture, he regained the stability he much needed to fully focus on his music.
He made progress on the initial development and production side of music by the end of 2008. He continued experimenting with production, writing new songs and working on his sound making significant strides throughout 2009 and 2010. In 2011, Joe started working with a number of different producers and reached his goal on the production quality he was looking for. He was now ready to move forward and concentrate his efforts towards the production of his first music video for what he chose to be his first single from his debut album.
His first music video performing his first single "Just You (Can Have My Love)" is from his debut album "Sweet Melody". This song displays Joseph's romantic side. The harmony is nice, with smooth sexy vocals. His style of music is a combination of Pop, R&B, and dance with a sprinkle of romance.