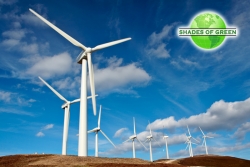 Jupiter, FL, April 20, 2012 --(
PR.com
)-- DMG Productions is currently in pre-production of a breakthrough educational series for its award-winning program Shades of Green, airing nationwide on major cable and satellite networks. This three-part series will explore the cutting edge technology of wind power, and its impact on both America and the environment.
"Let's face it: our nation's approach to energy is putting both our environment and our economy in danger. Shades of Green will be bringing a real solution to the table: wind power," said Ellen Rubin-Goold, producer for the series."
The concept of generating electricity through the power of wind has been steadily increasing in popularity both domestically and globally. In America alone, it has been responsible for bringing in almost $20 billion in private investment.
Denise Bode, CEO of the American Wind Energy Association, is spearheading a national effort to promote the use of wind energy. "American wind energy is creating American jobs and affordable electricity all across the country. We are powering one of the country's biggest sources of Made-in-the-USA manufacturing jobs and a vital source of economic development despite the downed economy," said Bode.
Shades of Green is an exciting and comprehensive program dedicated to defining and exploring today's latest advances in all areas of sustainable living. Developed through the real life experiences of industry experts and organizations that are leading the way, this six-time Telly award-winning series combines scientific and clinical data with poignant story telling, to deliver the best and most accurate information for viewers.
"Much of the inaction of the general public is caused by a lack of understanding about the availability of alternative energy sources," said Chad Densen, production manager for Shades of Green. "This special-edition series on wind power will raise awareness and call the public to action."
About DMG Productions:
DMG Productions is well respected in the community as a producer of educational television programming. Best known for their award winning medical series "Health Heroes", the agricultural phenomenon "American Farmer" and the eco-friendly program "Shades of Green," DMG is dedicated to enriching the lives of their television viewers.
For more information, visit www.dmgproductions.org or call 1-866-496-4065.