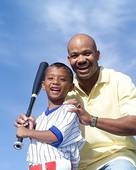 Reform, AL, May 01, 2012 --(
PR.com
)-- Why a batting cage? The batting cage is a great way for the entire family to interact with one another. It creates togetherness for the entire family no matter age or the size of one's family. That's why baseball is a great outdoors pastime sport.
Prohittingcages.com offers a solution to parents searching for ways to bond with their kids for the cost of a few video games, the company states it gives parents a tangible tool that will bring the family closer together - combo packages. James L., the site owner says "Parents are looking for ways to bond with their kids and this is an activity that is just as exciting for adult as it is for children. It creates memories that will last forever." James continues to say "It's never too early or too late in a child's life to begin sharing this experience, but sooner is always better." And since batting cages can be used indoors as well as outdoors, weather is never a problem.
There's no secret together activities build trust between a parent and child helping them form strong channels of communication. Parents who have not learned how to have fun with their children usually find it more difficult when it comes time to teach them important life lessons. Batting cages give parents the perfect excuse to go outside and play with their kids. Although batting cages can be used indoors in a garage on rainy days, outside makes for the grandest times of all. A batting cage offers a healthy alternative to video games. Children find hitting a real baseball can be quite challenging, if not more so to that of a video game. The hitting cage helps build and develop motor skills such as, eye-hand coordination, timing, and helps you work on your technique. No one ever received a high paying contract for playing video games. You can also video tape your swing to evaluate your swing later to develop better hitting skills. Also correct unwanted habits and get the desired results wanted at the plate. To support the idea of parents and children playing together, prohittingcages.com is offering a free package of PowerAlley Pro Leather Pitching Machine Baseballs when you purchase one of their many Combo Packages. For the first time in its history prohittingcages.com make an offer like this, so you can get started right away.
Prohittingcages.com carries only high quality, trusted names in
batting cages,
pitching machines and baseball equipment. Order and receive a limited time offer of pitching machine baseball just enter the text code 'family together'. There's no longer an excuse to put off a family tradition of active play, prohittingcages.com makes it easy, order today.