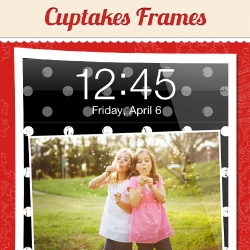 Austin, TX, May 01, 2012 --(
PR.com
)-- A new App from Cuptakes™ has been released. Users have been continually asking for more from Cuptakes, and specifically, a bit more user customization. Cuptakes Frames was conceived with the idea of taking the users best photos and implementing them into Frames that can be shared or applied to their iPhone or iPod touch. The App Store is overflowing with the same collage and filter apps, and they think it's time to do something more. Cuptakes Frames provides beautiful custom frames that they can be shared, applied, and enjoyed.
Notable features include:
- New Designs updated Monthly
- Matches the Original Cuptakes Themes
- Over 180 exclusive designs at Launch
- Retina 960x640 Designs
- Categories and Faves for ease of use
- Share Your Photo Frames Feature
"As a graphic designer I've always wanted to have a more girly selection of photo frames for my iPhone. Unfortunately, most of what is available are the same collage, editing, and filter apps. I say . . . It's time for a change! With that, is Cuptakes Frames," said Lauren, graphic designer behind Cuptakes and Restored 316 Designs.
Users can download the Cuptakes Application in any country where an iTunes Store is available.
This is the first version of Cuptakes Frames titled version 1.0, and subsequent versions are planned to follow with the idea to design and launch additional custom frames, and indefinite updates as needed.
The app retails for $1.99 in the US app store and is compatible with the iPhone and the iPod touch.