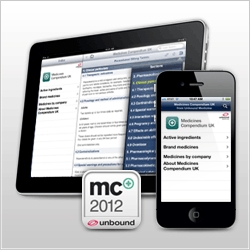 London, United Kingdom, May 03, 2012 --(
PR.com
)-- Today,
Unbound Medicine
, a leader in knowledge management solutions for health care, and Datapharm, an independent organization dedicated to improving public health and safety by providing up-to-date, accurate and comprehensive information about medicines, announce the release of Medicines Compendium UK for mobile devices. Available for popular smart phones and tablets such as iPhone®, iPad®, and Android®, Medicines Compendium UK represents the first mobile application with the unabridged Summary of Product Characteristics (SPCs) with full details of the composition and clinical application of more than 5,000 unique pharmaceutical products.
The mobile Medicines Compendium UK is a native app. Once downloaded to a mobile device, this continually updated software makes the full database of SPCs available to health care professionals from any location without requiring internet connectivity. The Unbound™ Platform has been upgraded to support download and management of very large databases to mobile platforms and internationalized to allow customization by country or language for efficient development of "localized" international products. Thus, multiple user interfaces can be made available worldwide based on the origin of purchase.
"The comprehensive nature of Medicines Compendium with its multiple product entries for a single medicine creates complex demands on an information management system," stated Lawrence Berry, chief executive of Datapharm. "Unbound Medicine's powerful technology allows us to offer for the first time a completely downloadable mobile solution so the doctors, pharmacists, and nurses who consult our database to ensure patient safety can do so anytime, anywhere."
"Datapharm's continually updated SPCs are an integral part of everyday health care delivery in the United Kingdom," added Bill Detmer, MD, president of Unbound Medicine. "We are pleased that internationalization of our platform now allows us to offer local content with an improved user experience for health care professionals worldwide."
Visit
www.unboundmedicine.com/products/medicines_compendium_uk
to learn more.
About Datapharm
Datapharm is an independent, not for profit company that publishes regulated medicines information from 200 UK pharmaceutical companies as the electronic Medicines Compendium (eMC). Datapharm bundles its databases with other data sets for UK and international licensees for use by the NHS and within clinical systems worldwide. Datapharm's mission is to improve public health and safety by providing up to date, accurate and comprehensive information about medicines to healthcare professionals, medicine users, carers and the general public.
About Unbound Medicine
Unbound Medicine is a next-generation health care knowledge company. Unbound produces award-winning mobile and Web products for partners and health care professionals using its end-to-end digital publishing platform and information architecture expertise. Additional information is available at
www.unboundmedicine.com
.