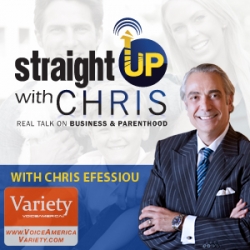 Washington, DC, May 02, 2012 --(
PR.com
)-- The Chris Efessiou & Team Companies, a pioneer of programming in the seamless conversion of business skills to personal relationships based on the Chris Efessiou's book CDO Chief Daddy Officer: The Business of Fatherhood (http://amzn.to/CDOall), today announced that Cynthia de Lorenzi, international keynote speaker, artist, social media expert and social commentator on the status of women in the world and Founder and CEO of Success in the City, will join Chris Efessiou, (http://www.ChrisEfessiou.com) host of "StraightUp with Chris: Real Talk on Business and Parenthood™" radio program on the VoiceAmerica Variety Channel (http://bit.ly/CEradio) Thursday, May 3, at 3:00 p.m. Pacific Time.
Ms. de Lorenzi will discuss the topic of From Parenting Children to Parenting Parents: Understanding and Preparing for the Shifting Paradigm. (http://bit.ly/Iyq9wP) "This topic is of key importance to us all as many of us find ourselves in the position of Parenting our aging Parents. It is critical that we handle those affairs with the utmost love, care and business savvy in order to achieve a desirable outcome for all involved," commented Chris Efessiou.
As Chief Executive Officer of Success in the City, Ms. de Lorenzi leads an unconventional business networking organization for senior level executive businesswomen. To help foster meaningful peer relationships and friendships among their thousands of followers, Success in the City's format tosses creative events and powerful professional development programs and discussions into the menu of opportunities to connect. Ms. de Lorenzi maintains that when given the opportunity to "really" connect on a dynamic personal level, personal growth as well as consummating "deals-on-heels" is certain to follow. In conjunction with Success in the City she also launched Success in the City TV, an Internet TV network for women's groups and organizations, host a number of blogs, including Powder Room Diaries and her recent partnership and endeavor Pink Collar LLC, a consulting and creative company encompassing traditional, social, new, emerging and futuristic media.
Cynthia de Lorenzi was selected by Washington Business Journal as one of the top 25 "Women Who Mean Business" in 2006, SmartCEO magazine awarded her the BRAVA award in 2009, and she was awarded SmartCEO's Circle of Excellence by her peers as well as recognized by Enterprising Women in 2010. Her organization, Success in the City has been featured in the Business Section of the Washington Post, NPR, DC Modern Luxury Magazine and Washington's Finest. Ms. de Lorenzi is passionate about empowering others and the principle of paying-it-forward. In addition to leading Success in the City, Ms. de Lorenzi serves as a Board member of The Telework Coalition, The Women's Center and Community Business Partnership including The Women's Business Center, which provides training, assistance and support to businesswomen in Northern Virginia.
"StraightUp with Chris: Real Talk on Business and Parenthood" airs live on Thursdays at 3:00 PM Pacific / 5:00 PM Central / 6:00 PM Eastern on The VoiceAmerica Variety Channel. To access the show, log on at http://www.voiceamericavariety.com or click on the link http://bit.ly/Iyq9wP. All shows will be available in Chris Efessiou's Content Library on The VoiceAmerica Variety Channel for on-demand and pod cast download, http://bit.ly/CEradio
Contact: Juliana Zoto, VP Operations; 703.288.0000, Juliana@ChrisEfessiou.com
About Chris Efessiou:
Entrepreneur, business leader, leadership expert, international speaker, author, educator, radio show host, and father Christos Efessiou (http://www.ChrisEfessiou.com) knows a thing or two about success. In the past 20 years, Chris has founded, co-founded, developed, and managed multiple successful enterprises—all the while being a committed and present single parent.
Widely known for his business acumen, empowering management style, and out of the box thinking, Chris is committed to inspiring and guiding working parents to attain success at work and at home. Through speaking, coaching and his book CDO Chief Daddy Officer: The Business of Fatherhood (http://amzn.to/CDOall), he clearly defines the fundamentals of solid leadership critical in both arenas, and provides tools, tips and advice on how to transfer business skills to the business of parenting and personal relationships.
His story is a testament to any entrepreneur's bravery and strives towards jubilation. Chris left his homeland of Greece at the age of 19 to enroll as an exchange student at a U.S. high school in the Boston area. He had less than a year to learn a language he did not speak and earn admittance to an American college or else he would be forced to return to Greece to work for his father's company—a future that would be undoubtedly secure, yet dishearteningly dependent. Now the founder, President, and CEO of SRxA-Strategic Pharmaceutical Advisors, an international consulting, marketing, and education firm, Chris's story is a testament to every young person's brave first steps out along that quivering, indefinite, yet ultimately rewarding wire of risk.
A sought after mentor and teacher, Chris is a visiting professor and guest lecturer at numerous academic institutions, including George Mason University's School of Management, and Northeastern University. A business leader and advocate, Chris serves as member of the Management Committee of the Small Business Council of the United States Chamber of Commerce, and is a keynote speaker on various topics, nationally and internationally.
Affecting future generations of business leaders by bringing CDO's message to college classrooms around the nation is Chris's ultimate goal. He also works with entrepreneurs and business professionals to help them develop and successfully transfer their skills from the office to the home.
About VoiceAmerica/World Talk Radio, LLC:
World Talk Radio, LLC is the world leader in online media broadcasting and the largest producer and distributor of live internet based talk radio and TV, delivering over 1,000 hours of programming weekly on its VoiceAmerica™ Network (http://www.voiceamerica.com) and WorldTalk Radio Network (http://www.worldtalkradio.com) as well as live and on-demand video content on VoiceAmerica.TV (http://www.voiceamerica.tv). Featuring more than 200 hosts broadcasting to eight niche community based channels: its flagship VoiceAmerica™ Variety Channel, VoiceAmerica™ Health & Wellness Channel, VoiceAmerica™ Business Channel, VoiceAmerica Sports, 7th Wave Channel, The Green Living Channel, VoiceAmerica Kids Channel and World Talk Radio Variety Channel. VoiceAmerica™ TV offers targeted and exclusive video programming channels. World Talk Radio, LLC is one of the pioneers in internet broadcasting, producing and syndicating online audio and video, offering an innovative, effective and comprehensive digital broadcast platform. Digital Publishing through its 10 years of broadcast and media experience along with our seasoned staff of Executive Producers, Production and Host Services Group, World Talk Radio, LLC provides an internet radio and video platform for new, emerging and veteran media personalities to expand and monetize their business and brand in an online digital medium.