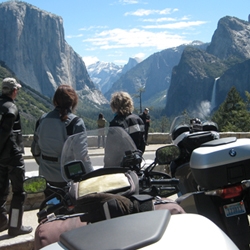 Mariposa, CA, May 09, 2012 --(
PR.com
)-- The BMW Motorcycle Club of Northern California invites riders, families and friends to attend the 40th Annual 49er Rally celebration at the Mariposa Fairgrounds, Mariposa, CA, May 24-28, 2012.
Experience the outstanding scenery and history of Yosemite and California's Gold Country while riding hundreds of miles of world-class roads from the paved to the unpaved, all from your secured campsite at the Mariposa Fairgrounds.
Enjoy four nights of secure camping/showers at the Mariposa Fairgrounds, food, drink, events, and tours with hundreds of like-minded BMW motorcycle riders for an online pre-registration fee of only $40. ($49 at the gate). $16 additional for Saturday dinner. All riders are welcome. Non-BMW riders require a sponsor.
The 49er Rally also welcomes several speakers to Mariposa:
International adventure rider Carla King, author, cofounder of the new online magazine MotoSFO.com will talk about her worldwide motorcycle adventures.
Rene Cormier, founder of Renedian Adventures and author of "The University of Gravel Roads" will discuss riding in wild Africa – its beauty and unique challenges.
Best of the West on a Single GS highlights paved and unpaved riding from California's Lost Coast to Montana's Going to the Sun by rider Wynne Benti.
In addition to vendors, travel and tech sessions, the 49er Poker Run with gold and silver coin prizes, English Trials, motorcycle skills and safety clinic, GS Ride, Concours judging event, over $2,500 in door prizes will be awarded.
Register online at: www.bmwnorcal.org/49er/ before for May 17, 2012 for $40 ($49 at the gate). Vendor info: Mike Morlin (415) 587-5158
Contact: Z Ortiz
Phone: (415) 587-5158
E-mail: registration49er@yahoo.com
www.bmwnorcal.org/49er/