ORT America ''Lunch with an Artistic View" Raises $124,000 for Science Education in Israel
ORT America is Jewish organization committed to strengthening communities throughout the world by educating people against all odds and obstacles. A division of ORT, ORT America supports a global network of schools and training programs that reach throughout the United States, Latin America, Israel, Europe, the Baltic and Commonwealth of Independent States (CIS), and Africa, fulfilling the dreams and aspirations of over 300,000 people in over 60 countries every year. www.ORTamerica.com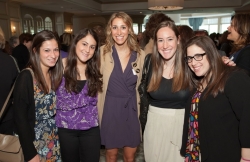 Chicago, IL, May 16, 2012 --(
PR.com
)-- On Sunday, April 22, 2012, 315 women gathered to support education with a purpose at ORT America's "Lunch With an Artistic View," held at Bryn Mawr Country Club in Lincolnwood. The event raised $124,000 to enhance science education and state-of-the-art science labs for students at Sha'ar HaNegev High School in Israel. Guest speakers included author/artists Andrew Winer and Mindy Weisel.
ORT was founded in 1880 in St. Petersburg, Russia, to provide job skills to millions of impoverished Jews. Today ORT provides leading-edge training in technology, science, and more to people of all faiths and backgrounds through a global network of schools.
"Even beyond computer skills and academics, an ORT education teaches the importance of social responsibility, Jewish continuity, and giving back to the community," said Karen Fine of Northbrook, president of ORT America, Metropolitan Chicago Region.
The money raised by the event will help the ORT program at Sha'ar HaNegev High School's Science and Technology Center, located in a region of southern Israel vulnerable to missile attacks, continue to provide the training that enables the schools' students to gain admission to Israel's top universities.
The guest speakers provided a touching backdrop to this fundraising effort with presentations drawn from their family histories. Mr. Winer, author of The Marriage Artist, used the Jewish marriage contract (the "ketubah") as a touchstone for a meditation -- what he called an "art of meaning" -- upon love, history, and shared responsibilities, all underscored with a sonata from Gustav Mahler.
As a child of Holocaust survivors born in a displaced persons camp after World War II, Ms. Weisel, editor of Daughters of Absence: Transforming a Legacy of Loss, explored the connections between life and art as she showed images of paintings she had done inspired by her father's prayer shawl and tattoo number and a cobalt blue dress that belonged to her mother. The paintings chronicled the artist's journey to embrace life despite her parents' wartime experiences and to celebrate her passion for beauty.
Ms. Weisel also revealed that as a child she attended an ORT-sponsored school for immigrant children in New York when she and her parents moved to America in 1949, and she expressed personal gratitude to luncheon guests for supporting ORT's work.
Gwen Heyman of Highland Park and Dora Jaeger of Lincolnshire co-chaired the luncheon. Debbie Miller and Holly Ginsburg, both of Highland Park, served as raffle co­chairs. Lori Kahn of Deerfield is executive vice president of ORT America Metropolitan Chicago Region. Judy Rosen of Long Grove is Midwest Director of ORT America.
About ORT America
ORT America is Jewish organization committed to strengthening communities throughout the world by educating people against all odds and obstacles. A division of ORT, ORT America supports a global network of schools and training programs that reach throughout the United States, Latin America, Israel, Europe, the Baltic and Commonwealth of Independent States (CIS), and Africa, fulfilling the dreams and aspirations of over 300,000 people in over 60 countries every year. For more details visit: www.ORTamerica.org
Media Contact: Aida Phillips | Velocitas O: 305.728.5365 | C: 305.785.6039
aida@velocitas.com
Contact
ORT America
Aida Phillips
305-785-6039

Contact