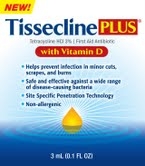 Sioux Falls, SD, May 18, 2012 --(
PR.com
)-- pharmaCline® continues its First Aid Wound Care mini-series on "The Balancing Act" on Lifetime Television. The third episode of the four-part miniseries will address the topic of Elderly Wound Care and will air May 21, 2012 at 7:00 am ET/PST. pharmaCline CEO Steve Keough and The Balancing Act host, Danielle Knox, will discuss the essential elements of first aid wound care for elderly individuals.
With age comes slower healing and an increased risk of infection from small cuts, scrapes or burns due to physiological changes. pharmaCline's topical TisseclinePlus® (SSPT™ Tetracycline) antibiotic ointment offers older generations and their loved ones proven assurance for the best treatment of wounds and protection from infection.
"Caring for aging parents can be a delicate situation," said Keough. "We believe that the best way to care for your elder loved ones is to show compassion, humor and love along with being attentive to their healthcare needs. Ensuring effective delivery of high quality medication is essential."
pharmaCline's TisseclinePlus antibiotic ointment rapidly penetrates wound sites with dual action pharmaceutical and mechanical kill using award winning Site Specific Penetration Technology™ (SSPT).
The miniseries will also cover:
Medicine Cabinet makeover, August 20th, 2012
Caring for Your Loved One- Diabetic Wound Care, November 12, 2012
About pharmaCline
pharmaCline® is an innovative technology and pharmaceutical company that has developed a proprietary drug delivery technology called Site Specific Penetration Technology™. Using this technology, pharmaCline has created a game-changing product line of topical hypoallergenic antimicrobial drugs. pharmaCline's new products provide an effective solution to the antibiotic resistance crisis worldwide. Due to the SSPT delivery system the ability of the pathogens to develop resistance may be limited to evolutionary cycles, rather than years or months.
Contact Information:
Lana McCoy, Executive Marketing Coordinator
Email: lmccoy@pharmacline.com
Phone: 605-271-2086
2329 N. Career Avenue, Suite 243
Sioux Falls, SD 57107
www.pharmacline.com